Mummies of Anatolia
Source - http://www.hurriyetdailynews.com/mummies-of-anatolia-.aspx?pageID=238&nID=71169&NewsCatID=375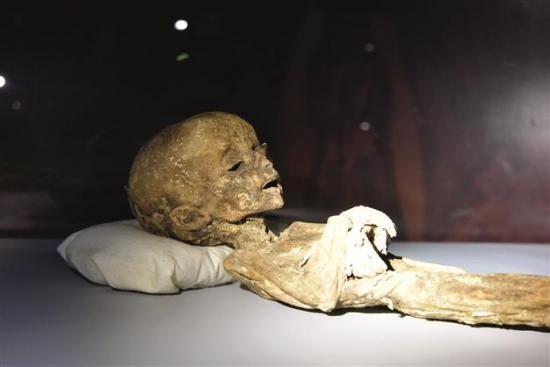 17 mummies found in Aksaray's Çanlı Church and Ihlara Valley are being exhibited in the Aksaray and Niğde museums. AA Photo
The mummification technique, which is used to preserve the body after death, has been used by several different civilizations throughout history, including the mummies of Anatolia. 

During antiquity and the Middle Ages (5th-15th Century), mummification was a common technique used by the Pharaohs, Incas, Aztecs and Chinchorros of northern Chile, so the dead could survive and live on in the afterlife. 

Today, mummies remind us of Egypt and the pharaohs, but Anatolian mummies have a significant potential to attract tourism. The Anatolian mummies are mysterious in terms of the era they lived as well as their preservation methods.

The province of Aksaray and Niğde in the region of Cappadocia has the potential to draw public attention through its children and cat mummies, while the Black Sea province of Amasya is home to the sultans' sons who have been mummified. 

The Cappadocia region, which attracts millions of tourists from all around the world due to its fairy chimneys, underground cities, valleys and balloon tours, overshadows interest in the Anatolian mummies. 

Some 17 mummies found in Aksaray's Çanlı Church and Ihlara Valley are being exhibited in Aksaray and Niğde museums. The mummies that were obtained during operations into illegal excavations and which date back to the 10th and 13th centuries are of religious functionaries, priests and nuns who lived in various eras. 

The beads that have been found with the mummies, as well as objects used in daily life, such as necklace pieces, embroidered cloth pieces, jewelries from the Byzantine era and candles are being exhibited in the museums along with the mummies.

Cat mummies

In the Mummies Hall in the Aksaray Museum, which displays numerous artifacts that are 11,000-years-old, one can see 10 adults, children and two cats that have been mummified. Cats were mummified in Egypt for the cat-headed goddess Bastet. According to historians, this tradition came to Anatolia from Egypt.

The Niğde Museum is home to the mummy of a nun, which was found in the Ihlara Valley and dates back to the 10th Century A.D., and four 13th-century child mummies that were discovered during an illegal excavation in Çanlı Kilise. 

The only examples in the world that have been mummified with their internal organs are the nobles of İlhanlı in the province of Amasya. The mummies are the first of their kind in terms of the era they lived and their preservation methods. 

The Amasya Museum displays eight mummies, four adults and four children. The mummies belong to Şehzade Cumudar, Emiri İşbuğu Nuyin, İzzettin Mehmet Pervane Bey, his wife, son and daughter. They were brought from the Amasya Burmalı Minare and the Fethiye Mosque's tombs.