Monmouth (G-B): An ancient lakeside fortress
Monmouth (G-B): An ancient lakeside fortress
Source - http://www.southwales-eveningpost.co.uk/Welsh-fortress-older-Pyramids-unearthed-new/story-27455536-detail/story.html#ixzz3gXp8NUef
An ancient lakeside fortress older than the Pyramids has been uncovered on a new housing estate - and archaeologists believe it is one of the world's oldest known boat building communities.
The wooden fort was built on stilts standing over a long-vanished Ice Age lake 4,800 years ago to defend against marauding tribes.
Radiocarbon dating of the timbers reveal the fortified farmstead at Monmouth, South Wales, was built in 2917 BC - making it 300 years older than the Pyramids at Giza.
The neolithic fort on stilts was known as a crannog and was built far from the shore of the lake on a man made island to make it harder to attack.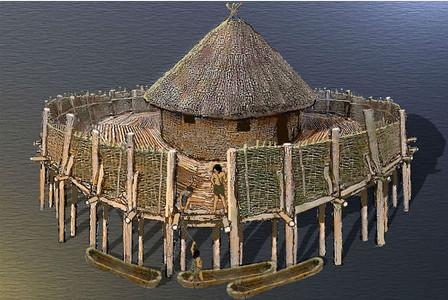 How the crannog might have looked.
It is only the second crannog to be discovered in England and Wales but is older than the only other example on Llangorse Lake in the Brecon Beacons by 2,000 years.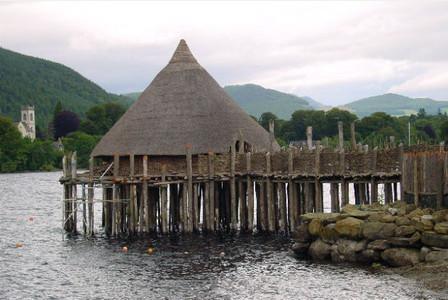 Another example of a crannog
Archaeologist Stephen Clarke MBE, who founded Monmouth Archaeology, said: "This is surely one of the most stunning of prehistoric discoveries.
"An exceptional feature is that the construction was based on three massive parallel 'sleeper beams' - timbers roughly hewn from complete trees set in the ground horizontally.
"One of these timbers is a metre wide and all of them seem to have been from full-grown trees.
"Most of the known long houses were based on posts."
The discovery of the crannog under a building site in Monmouth, earmarked for 450 houses, paints a picture of a thriving community based around the world's oldest known boat building yards.
The prehistoric boat building site was uncovered in 2013 near the newly-discovered crannog site - and dates back to 1,700 BC.
Excavations revealed three 100ft-long (30m) channels which run parallel to each other and at right angles to the ancient lake.
The metre-wide channels were shaped like the bottom of wooden canoes and cut through a mound of burned earth carbon dated to the early Bronze Age.
Mr Clarke said they showed a twin-hulled boat with an outrigger being dragged into a huge Ice Age lake.
He said: "No one in the world has ever identified a prehistoric boat building site before. They have found fragments of boats but never a boat building site - this is of international importance.
"There was no sign of the wooden boat but there was evidence of wood working on the site - with sharp flakes of imported flint found alongside the channels."
The crannog and outrigger boat were built on what was a 4km-long prehistoric lake home to hunter gatherers before it drained away over thousands of years.
The latest discovery of the crannog has been published in a book called The Lost Lake about the community living on the Monmouth post-glacial lake.
Remains of the crannog timbers were preserved beneath the clay and peat of a lagoon which formed when the lake drained some 2,000 years ago.
One of the timbers found at the crannog site.
They had been skilfully worked with a stone axe to form the bottom of a stilt supporting structure in the lake bed.
Crannogs are believed to have been centres of prosperous farms where people lived in an easily-defended location to protect themselves and their livestock from passing raiders.
There are over 600 recognised crannogs in the lochs of Scotland but most date from the later Iron Age than the Monmouth crannog.
The settlements consisted of a farm house, with cattle and crops being tended in nearby fields, and sheep on hill pastures.
Local woodlands would have serviced the home with fruit, hazelnuts, wild cabbage and medicines, as well as with wild boar and other woodland animals suitable for hunting.