Dantan site may be the missing link of Hiuen Tsang's memoirs
Jhimli Mukherjee Pandey
Source - http://timesofindia.indiatimes.com/city/kolkata/Dantan-site-may-be-the-missing-link-of-Hiuen-Tsangs-memoirs/articleshow/12539616.cms
Chinese scholar Hiuen Tsang in his memoirs, dating back to the seventh century, had written about some prominent Buddhist monasteries in Tamralipta state. Generations of historians have tried to look for them, but apart from the one at Karna Subarna (today's Murshidabad), no one has been able to trace any monastery anywhere in Bengal. However, the recent discovery beneath a forsaken mound at Moghalmari, a few kilometres off Dantan in West Midnapore, will provide vital clues to the missing links from Hiuen Tsang's memoirs.
The mound has given way to a massive site covering an area of 5,000 square meters, which is being already touted by archaeologists as the biggest and oldest excavated site in Bengal, dating back 1,500 years in time. ASI has been funding this project partly and once the excavation is completed, it will be taken over by the Archaeological Survey of India (ASI) and declared a "protected monument of national importance".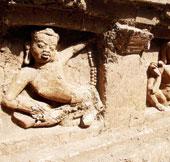 In 2003, Indologist and coins expert B N Mukherjee, along with a team of scholars from Calcutta University, had visited Dantan to document the navigational history of Bengal. During their recce, these scholars were shown a huge mound at Moghalmari which was popular in local lore as Sashi Sena or Sakhi Sena.
Much later, in 2006, these scholars went back there after having researched on lost monasteries, now with permission and licence from the ASI to unearth the site. The excavation, which is yet to be completed, has laid bare a treasure trove and its antiquity has been ascertained at sixth century.
It has taken six years of extreme toil by three experts from the Calcutta University's archaeology department, research scholars and students to excavate the remains of the monastery. From the debris has risen an 11-foot high plinth that is ornated all over with divine, human, animal, floral and abstract stucco figures.
"It is a tri-ratha structure, typical of Buddhist monastic architecture, complete with innumerable cells for the monks to live in. The large number of cells indicates that it was a huge monastery. Besides royal patronage from Shashanka, the monastery was patronized by merchants who used the Dantan port," said Ashoke Datta, archaeologist and chief investigator of the excavation.
The nature of the architecture proves that construction and growth here happened in two phases. The first was between the sixth and seventh century while the second was in the ninth and tenth century. "Naturally we have found the remains at two levels of elevation. The construction patterns are distinctly different at the two structural phases enabling us to determine the different time zones in which they were constructed," said Rajat Sanyal, another investigating archaeologist and a faculty member.
"The monastery was built in the Vajrayana phase of the propagation of Buddhism. At this time, deity worship was slowly making inroads into Buddhism. Thus, the walls have figures of jambala (equivalent to the Hindu God yama), figures of goddesses who can be equated with Saraswati, amorous couple figures like the ones found in Konarak etc," explained Duga Basu, another investigating archaeologist and a faculty member.
The Asiatic Society will bring out a full-fledged publication and will publicise the discovery in the academic world.
"We are happy that an excavation of this scale has been undertaken by CU. A site of such great historical significance has not been unearthed in recent history. The ASI has already approved the protection of the monument and we will take up the conservation work within this month. We are awaiting a no-objection certificate from the state government so that we can declare Moghalmari, a protected site," said Tapan Vaidya, regional director of ASI.