Tsuyoshi Sato
Source - http://ajw.asahi.com/article/cool_japan/AJ201401300067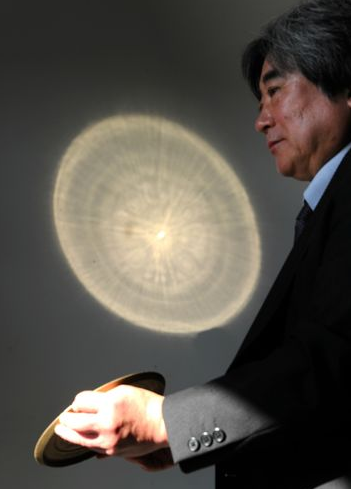 When sunlight reflects off the surface of the replica of a Sankakubuchi Shinjukyo mirror, patterns engraved on the back are projected on a wall at the Kyoto National Museum on Jan. 29. (Noboru Tomura)
Rulers of ancient Japan may have used a "magic mirror" to conjure up images of mountain wizards and divine beasts for sun-worshipping rituals.
The Kyoto National Museum said Jan. 29 patterns engraved on the back of a type of bronze mirror associated with ancient queen Himiko are projected on a wall when sunlight reflects off the front.
Ryu Murakami, head of the museum's curatorial board, said the discovery could provide valuable clues in studying how bronze mirrors were used in ancient Japan.
"Someone apparently noticed the phenomenon and intentionally shaped mirrors in this way," he said. "I believe they have something to do with sun worship."
Using a 3-D printer, Murakami, an expert in historical materials science, produced replicas of two Sankakubuchi Shinjukyo mirrors from materials used in the originals, such as copper and tin powder.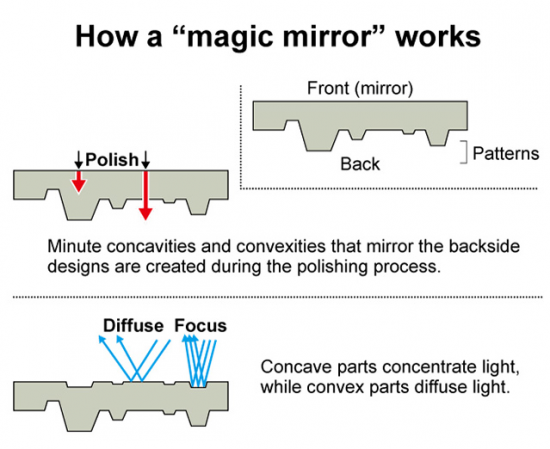 The Asahi Shimbun
The mirrors, 21 and 24 centimeters in diameter, were found in the Higashinomiya tomb in Inuyama, Aichi Prefecture, and are owned by the Kyoto National Museum. Both are designated as important cultural properties by the government.
The Sankakubuchi Shinjukyo mirror, believed to be produced around the third century, is characterized by its triangular rim when seen in cross-section. Its back features a relief engraving of wizards and mythical creatures.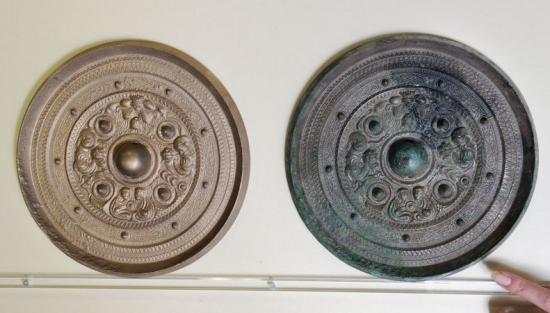 A Sankakubuchi Shinjukyo mirror designated as a nationally important cultural property, right, and a replica produced with a 3-D printer, shown at the Kyoto National Museum on Jan. 29 (Noboru Tomura)
More than 500 mirrors have been unearthed in areas from the northeastern Tohoku region to the southern island of Kyushu, with many in the Kinki region.
The mirror is associated with Himiko because some were inscribed with the year 239, when a Chinese emperor presented 100 bronze mirrors to the queen's emissary, according to a Chinese chronicle.
Some ancient Chinese mirrors are known to function as magic mirrors. During the Edo Period (1603-1867), Christians under persecution in Japan made similar devices to pray before images of the cross and the Virgin Mary.
But the Jan. 29 announcement was the first to confirm similar properties in an ancient mirror excavated in Japan.
In a magic mirror, unevenness on the polished surface—too subtle to be detected by the naked eye—reproduces patterns on the back when sunlight reflects off the front.
Minute concavities and convexities that mirror the backside designs are created during the polishing process. The concave parts focus light, while convex parts diffuse light, resulting in the projected image.
Murakami has yet to confirm whether other types of bronze mirrors work like a magic mirror, but he believes that other Sankakubuchi Shinjukyo mirrors have similar projective qualities if substantial differences exist in the metal's thickness.
Shoji Morishita, an associate professor of archaeology at Otemae University's faculty of cultural and historical studies, said researchers tended to focus on the back of bronze mirrors, but cutting-edge technologies have shed new light on the mirrors.
"The finding could lead to reconsideration of the role of mirrors in ancient rituals," said Morishita, who is well versed in bronze mirrors. "Sometimes, dozens of mirrors are found from the same burial mound. Theoretically, it's not hard to imagine that they were lined up to project a number of images."
The replicas produced by Murakami are scheduled to go on display at the Takaoka Art Museum in Toyama Prefecture between June 28 and Aug. 31.