Milverton (G-B): Henry VIII: Devil in Disguise
Milverton (G-B): Henry VIII: Devil in Disguise
The devil really IS in the detail! Fascinating 16th century mural of Henry VIII which turns into an image of SATAN when viewed upside down
Dalya Alberge
Source -: http://www.dailymail.co.uk/news/article-2512684/The-devils-Sixteenth-century-mural-Henry-VIII-reveals-image-SATAN-viewed-upside-down.html#ixzz2ljvlUPwD 
Angie and Rhodri Powell found mural in their 16th-century Somerset home

But when they turned it upside down they saw the image of the beast

Couple live in former residence of archdeacons including Thomas Cranmer

Hidden message suggests it was commissioned by opponent of Henry

Diabolical: When the portrait of Henry VIII (left), found by Angie and Rhodri Powell, is turned upside-down, it is transformed into the head of the devi

When the portrait of Henry on his throne is viewed upside-down his features transform into the devil, with horns and goats' eyes. The devil appears too when the mural is viewed through a glass.
The mural is in the couple's drawing-room in the village of Milverton, the former Great Hall of the summer residence of 16th-century archdeacons of Taunton including Thomas Cranmer.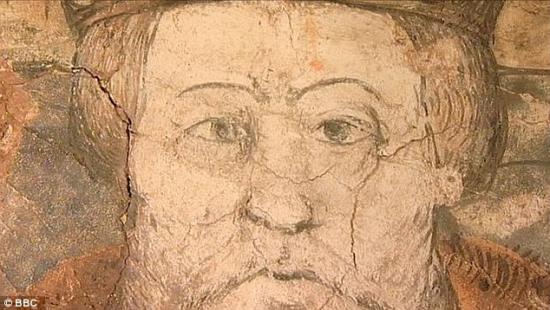 The painting of Henry VIII was discovered when some plaster was removed from a wall in house in Milverton, Somerset 
They were relaxing upstairs by an open fire one evening when they noticed that a postcard of the mural which they had printed had fallen on the floor upside-down – revealing the portrait's sinister side.
Mrs Powell recalled: 'It was fairly low light. My husband noticed the face…We were both very spooked. It's quite an unpleasant image. I was bit horrified… I realised it was the devil.'
They were so unnerved that they did not venture downstairs that evening.
The next morning, they 'very gingerly opened the door', and were reassured to find Henry with the 'same old benign expression', Mrs Powell said.
As they peered more closely, they realised how skilfully the dangerous image had been concealed. The king's narrow shoulders become the devil's pointed chin and oddly-shaped sleeve-cuffs were satanic eye-sockets.
The mural, which is thought to date from around the 1530s or 1540s, is almost six foot high and 20 foot wide.
Dr Kathryn Davies, a wall paintings specialist with English Heritage who is researching the mural, said: 'It does look quite evil… Hold a glass up to it, it's bizarre. You get quite an eerie picture.'
Professor Diarmaid MacCulloch, a specialist in the history of the church at Oxford University and Cranmer biographer, said that there was tremendous interest in optical illusion at the time, as shown by the distorted perspectives in Holbein's famous painting of The Ambassadors and William Scrots's portrait of Edward VI.
'So there's no reason why it shouldn't be true,' he said.
He noted that one of the then archdeacons felt 'very equivocally' about Henry VIII's Reformation: 'It's just possible that, for a private joke, he put it in because you could only see it through an optic. I imagine that, in the privacy of his own dining-room… it could be enjoyable.'
For obvious reasons, the painting is unsigned.
Conservator Ann Ballantyne, who is working on the mural, noted that it was painted at a time when the king was behaving 'excruciatingly badly'.
The Powells are no longer frightened. Mr Powell said: 'This was really…a delightful piece of satire.'
As the old proverb goes: 'The devil is not so black as he is painted.'

THOMAS CRANMER, HENRY'S LOYAL RIGHT-HAND MAN

Thomas Cranmer was one of the most influential religious leaders during the English Reformation and his influence spanned the reigns of three monarchs – Henry VIII, Edward VI and Mary I. It was during the reign of Mary, a staunch Catholic, that Cranmer was put to death.
Historians believe it was Cranmer who suggested to Henry VIII that he should get the theological support of the Protestant universities of Western Europe in his quest for a divorce from Catherine of Aragon.
In 1533, the academic was offered the position of Archbishop of Canterbury. In an era when few dared to oppose a decision of the king, Cranmer accepted and was propelled into high politics.
Now one of the leading religious figure in the land, Cranmer started to develop his religious views. He wanted to see Protestantism embedded in England – a view more extreme that Henry in 1533.
However, Cranmer kept on the right side of Henry by preaching his unswerving support for monarchical absolutism, which he justified by his support for the doctrine of divine right of kings. Along with Thomas Cromwell, Cranmer worked out marriage proposals and divorces when required by Henry.
Over the next years of Henry's reign, Cranmer and the king developed a very close relationship. 
During Mary's reign, Cranmer was charged with treason and imprisoned in the Tower of London in November 1553. In March 1554, his religious views were declared heretical. On March 21, 1556, he was burned at the stake.