Source - http://www.laht.com/article.asp?ArticleId=2394871&CategoryId=13936
DESCUBREN EL GRAN TZOMPANTLI DE MÉXICO-TENOCHTITLAN
INAH - http://www.inah.gob.mx/boletines/545-descubren-el-gran-tzompantli-de-mexico-tenochtitlan

Mexican archaeologists found a pre-Hispanic skull rack known as "Huey Tzompantli" in the Historic Center of Mexico City, the National Institute of Anthropology and History, or INAH, said Thursday.
Eduardo Matos, investigador emérito del INAH. Foto Héctor Montaño, INA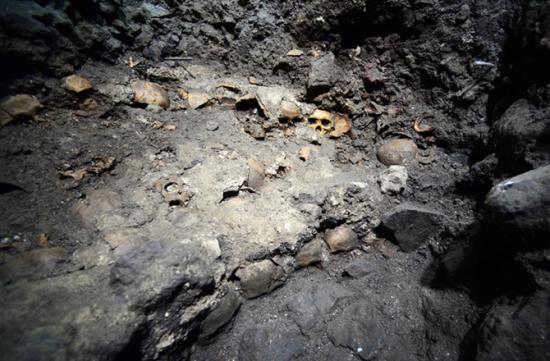 Some of the skulls mortared together in a circle. PAU-INAH
The rack appears in the illustrations of the Codex Duran and Codices Matritenses manuscripts of the second half of the 16th century of New Spain.

The former tells the story of the Aztecs and was written by the Dominican friar, Diego Duran, while the latter comprise texts compiled by Franciscan Friar Bernardino de Sahagun's ethnographic research.

What makes the finding interesting is that the tzompantli and its function is cited by historical sources, said Eduardo Matos, one of the leaders of the research.

The tzompantli, he said, served to hold skulls of individuals beheaded in various ceremonies through a series of rods and poles.

The 45-centimeter (17.7 inches) high skull rack was found in a building on a Guatemala street near the Templo Mayor ruin site in the city's Zocalo area.

The tzompantli, along with other structures, such as ruins of Xochicalco, located in the western part of the Templo Mayor, or the Juego de Pelota, prove that in some 16th century pictographs and codices these buildings were already being depicted and archaeology confirms that, Matos explained.

Matos, who has been in charge of excavations at the Templo Mayor since 1978 said the Urban Archaeology Program has found all the structures, including over 45 buildings, in partial or complete ruins.

The program has already found more than half the 78 places mentioned by Friar Bernardino de Sahagun in the codex, said the expert, who added the altar will be open to public once excavation works are complete.
VIDEO = http://www.ibtimes.co.uk/mexico-archaeologists-unearth-sacrificial-skull-trophy-rack-templo-mayor-aztec-complex-1516514