PART. 2
Historians, however, abhor the practice.
"They are recovering only things that are monetarily valuable, and that might represent just 1 or 2 percent of the entire artifact assemblage," said Paul F. Johnston of the National Museum of American History in Washington.
"Sometimes they blast through, dynamite, or pull apart artifacts that are historically or archaeologically far more important."
A diver examines a Dutch East India Company (VOC) cannon from a shipwreck that is believed to be from the 17th century, in Mentawai Islands, Indonesia [Credit: AP/Dita Alangkara]
International auction houses have also played a part by creating markets for the artifacts, he and others say, as have governments and museums that buy them and put them on display.
Slowly, however, attitudes are changing.
After a chorus of criticism, the Smithsonian Institution announced in December it was canceling a planned exhibition of cargo from the Arab vessel, which was found in 1998.
The German company involved in the excavations pulled up more than 60,000 pieces of China's Tang Dynasty ceramics in just a few months, and then sold it to Singapore for $40 million.
Indonesia got $2.8 million — a mere fraction of what it was owed under its own law — and thousands of artifacts.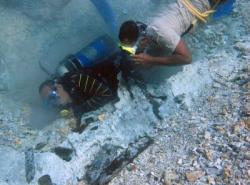 Divers examines artifacts they found under the deck of what is believed to be a 17th century Dutch East India Company (VOC) shipwreck in Mentawai Islands, Indonesia [Credit: AP/Dita Alangkara]
Privately, officials were furious.
But no one protested, presumably because the deal was linked to under-the-table "gifts" to high-ranking officials, as was common during and immediately after the collapse of Gen. Suharto's dictatorship.
"I don't think anyone will ever know exactly what happened," said Helmi Suriya, director of the Underwater Heritage from the Education and Culture Ministry, with a laugh.
"Even when I asked, I didn't get an answer," he said. "But that was a different era. We didn't even have an anti-corruption commission then."
Indonesia has embraced democracy since Suharto's ouster, and in 2010 it passed a law protecting underwater cultural heritage. But guidelines for implementation have been stalled by infighting.
Some officials, including Suriya, argue artifacts should stay inside the country, either beneath the water, as favored by UNESCO, or auctioned off locally.
Divers reach under the deck of what is believed to be a 17th century Dutch East India Company (VOC) shipwreck in Mentawai Islands, Indonesia [Credit: AP/Dita Alangkara]
"We should only allow underwater excavation for research and knowledge purposes, not for commercial," he said.
Others say, in a graft-ridden country of some 18,000 islands and more than 50,000 kilometers (30,000 miles) of coastline, that's unrealistic.
Wrecks left where they are will be immediately looted. And no one, least of all the government, will assume the cost or risk excavations without the promise of a big payoff, they say.
So for now, all excavations are on hold.
Fred Dobberphul, a German diver, who has been involved numerous salvage projects in the last two decades, says that's causing its own problems.
"Those of us who are legal, who have a legal company, we are not allowed to work," he said.
"But everyone else is going out and looting — the fishermen too," he said. "They bring it up to the antique shops and go to the collectors and it's gone. All the information is gone."
So far, 463 wrecks have been discovered off Indonesia, according to the National Committee of Underwater Heritage, made up of representatives from 15 ministries and government bodies, but up to 10,000 more are believed to be on the ocean floor, according to documents from China and other countries about ships that headed here never to return.
Almost all have been found in the waters between Indonesia and the Asian mainland. Only around a dozen have ever been found in the Mentawais, a string of tiny islands on the western side of the country, where the open seas were riskier.
But that doesn't mean those westerly isles don't have a story to tell, said Liebner, the maritime expert.
They doomed ships may have been visiting ports or naval bases along Sumatra island's western coast, he said, or dodging hefty taxes or pirate-infested waters.
But there's little chance of finding out, he said, noting that looters will probably get there first.
Hardimansyah, who has just spent four days with his crew at the site of the 17th century 'luxury' ship, is starting to believe that too.
His teams of fishermen jump back into the water to cover the deck with sand and coral and then prepare for their 16-hour overnight voyage home.
As they pull the hoses back onto the deck and wrap them into a tight coils, the sun dips beneath the horizon, streaking the ash sky with heavy strokes of orange.
The captain cranks up the engine and, as it settles into a low murmur, a group of dolphins arrive, swimming alongside the blue-and-red boat.
The romance, however, has worn off for Evendi and the other men.
"I'm really getting tired of waiting," says the 40-year-old father of three as one diver pulls out a guitar and another prepares a meal of fresh lobster.
Normally, he spends his days scouring the reefs for Nemos and other marine life for saltwater aquarium.
But now, he says with a smile, he has the treasure hunting bug as well.
"I don't want to be a fisherman for the rest of my life."