Matsu (Taiwan ): Austronesian links unveiled
Matsu (Taiwan ): Austronesian links unveiled
Source - http://www.taiwantoday.tw/ct.asp?xItem=222521&ctNode=445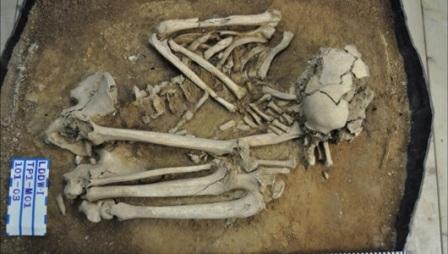 The first human skeleton unearthed in late 2011 on Liang Island in Lienchiang County is shedding light on the origins of the Austronesian linguistic family of peoples and history of human migration. (UDN)
Two skeletons found in Taiwan's outlying Matsu archipelago have confirmed genetic links to the Austronesian linguistic family of peoples, according to a researcher from Academia Sinica.
"The discovery is based on the latest DNA and carbon testing of the skeletons, which were recovered in 2011 and 2012 from the same site on Liang Island," said Chen Chung-yu, a research fellow at Academia Sinica's Institute of History and Philology.
Chen made the remarks at a two-day international archaeology conference held Sept. 27 in Taipei City. Also attending were Tsang Cheng-hwa, an academician with Academia Sinica, Mark Stoneking, a geneticist with Germany's Max Planck Institute for Evolutionary Anthropology and Department of Evolutionary Genetics, and Peter Bellwood, professor of Archaeology at Australian National University.
The skeletons are referred to as Liangdao men, or Liang Islanders No. 1 and No. 2. Carbon testing indicates that Liang Islander No. 1 lived about 8,200 years ago, while Liang Islander No. 2 lived between 7,530 and 7,800 years ago.
"We are extremely excited by the findings," Chen said. "Through maternal mitochondrial DNA testing of finger bones, it has been determined that the closest genetic fit of the two Liang Islanders is with indigenous peoples in Taiwan, the Philippines and other lands populated by Austronesian-speaking peoples."
Chen said results indicate that the southeastern coastal area of the Asian continent was among the staging grounds as far back as 10,000 years ago for migration of Austronesian-speaking peoples, who now inhabit oceanic regions stretching half way around the globe.
This latest evidence in the ongoing debate about the ancestry and movements of Austronesian-speaking peoples is particularly significant for its unique anthropological perspective, Chen said.
"We will continue our research on the remains and focus on cultural history, as well as reconstruction of the natural and social environments at the times when the two Liang Islanders lived."
Administered by Lienchiang County, Matsu archipelago is located more than 210 kilometers from Keelung in northern Taiwan and less than 1 kilometer off the coast of northern Fujian province in mainland China. Liang Island, 40,000 square meters in size, is garrisoned by ROC armed forces and has no civilian residents. (DF-JSM)