Source - http://www.bangkokpost.com/news/local/344168/doubts-remain-after-tomb-hunt
A team of volunteer archaeologists who set out to verify if a tomb in Myanmar belonged to an Ayutthaya king found some relics and artefacts at the site but cannot reach a conclusion.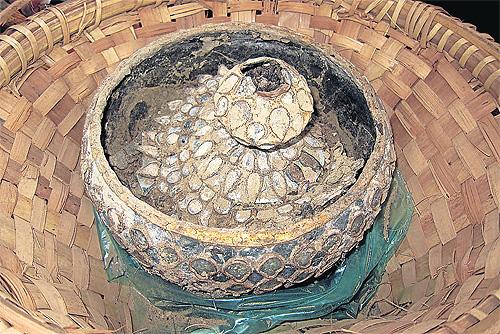 An artefact found at the tomb in Myanmar. PHOTO COURTESY OF PONGKWAN LASSUS
The group, supported by the Association of Siamese Architects, carried out the excavation work at Linzingong cemetery, in Amarapura township in Mandalay, from Feb 20 to March 14.
The project was supported by both the Thai and Myanmar governments.
Vichit Chinalai, the project director and a veteran architect, told a seminar on the issue on Thursday that more work needs to be done to prove if the stupa, one of the three at the cemetery, holds relics of King Uthumporn (1730-1796). The monarch reigned briefly before leaving the throne to his brother King Ekathat, the last king of the Ayutthaya period.
King Uthumporn, then ordained, was among the Thais who were taken from Ayutthaya to Burma. The king died in 1796 while still in the monkhood.
The abandoned cemetery where the stupa stands has been a destination for Thai travellers to Mandalay who believe it is the king's tomb.
According to Mr Vichit, the team found about a dozen artefacts including a bowl-shaped container in which a few pieces of burned relics and a tooth were found.
The findings will be sent to the Thai and Myanmar governments for endorsement. The team of archaeologists believed the artefacts could be linked to either a senior monk or a king but found no inscription during the excavation.
Since the number and size of the artefacts found at the stupa is small, carbon-14 testing is not possible to verify their precise age. A DNA test was also ruled out as the amount of burned relics and ashes is too small.
The only option to verify the age of the findings is a thermoluminescence test. The test, however, can only be conducted after reports and findings from the first phase have been approved by both governments, Mr Vichit said.
He added it is likely the verification project will go into a second phase.
The excavation project has saved the Linzingong cemetery from being bulldozed by local authorities in Myanmar. The site had earlier been earmarked for a land development project by a former Mandalay government. The current administration withdrew the project, allowing the excavation to proceed.
The latest decision was made after the artefacts had been found. The team, led by Mr Vichit, was also asked to submit a second-phase plan to improve the cemetery and develop the area into a promenade and "yodia", or Ayutthaya village.