Makimuku (Japon): Ancient animal bone suggests Himiko adopted Chinese fortunetelling method
Makimuku (Japon): Ancient animal bone suggests Himiko adopted Chinese fortunetelling method
Kazuto Tsukamoto
Source - http://ajw.asahi.com/article/behind_news/social_affairs/AJ201501300078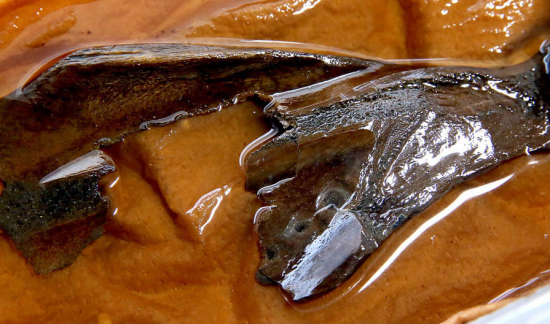 A piece of animal bone used for fortunetelling excavated at the Makimuku ruins in Sakurai, Nara Prefecture, is shown on Jan. 26. It has three burn marks in the middle. (Toshiyuki Hayashi)
An animal bone unearthed from ancient ruins here indicates that a fortunetelling method imported from China was adopted by shaman queen Himiko and leaders of the Yamato State.
Sakurai city's education board on Jan. 29 said the bone was discovered at the Makimuku ruins, believed to have been a key city for the Yamataikoku kingdom governed by Himiko.
The Makimuku ruins, a national historic site, date back to the early third to early fourth centuries.
Characteristics of the bone, a boar's right scapula, showed that it was used in a fortunetelling method that was brought from China and spread in Japan during the Yayoi Pottery Culture period (around the fifth century B.C. to the third century A.D.)
The bone measures 16.7 centimeter long and 6.7 cm wide. Three round marks were apparently burned into the bone with a stick. The bone was unearthed along with pottery, a wooden item and other animal bones from an oval hole.
The fortunetelling method involved burning an animal bone and other materials, and "reading" the burned part of the bone and the change in its color.
This method is recorded in the Chinese history text "Gishiwajinden," which describes ancient Japanese society and climate around the early third century.
Previous findings showed that many people during the Yayoi period used scapulae of deer and boars for fortunetelling. A method involving turtle shells later emerged in the Kofun Period (third century to seventh century).
Archaeologist Kaoru Terasawa, a director at the Research Center for Makimukugaku in Sakurai, said the location of the finding shows that fortunetelling using animal bones was performed among lower levels of society but gradually became part of Japan's officialdom.
"(The recent finding) is significant in thinking about how animal bone fortunetelling performed at the grass-roots level during the Yayoi period evolved into a part of the national system," Terasawa said.
The hole where the bone was found is about 2.2 meters in diameter and about 1.1 meters deep and located on the east side of a former building site, the largest of its kind from the early third century in Japan. The ruins were found in 2009.
The Makimuku ruins stretch about 2 kilometers east to west and about 1.5 km north to south. The site is dotted with ancient burial mounds, including the 280-meter-long Hashihaka, which some say may be the tomb of Himiko.
Pieces of pottery from across the country, such as the Tokai, Hokuriku, Sanin regions, have been excavated at the ruins.
The hole at the Makimuku ruins in Sakurai, Nara Prefecture, where the animal bone was discovered (Toshiyuki Hayashi)