Kazuto Tsukamoto
Source - http://ajw.asahi.com/article/behind_news/social_affairs/AJ201503020035?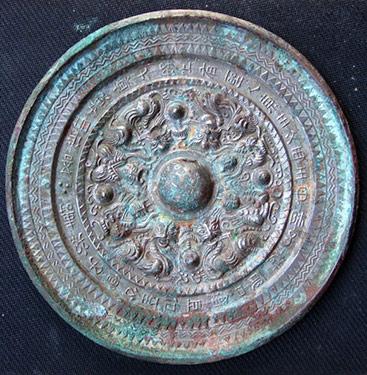 A bronze mirror recently discovered in China is similar in design to the Sankakubuchi Shinjukyo. (Provided by Wang Chenyi)
A bronze mirror found in China resembles those associated with Japan's third-century shaman queen Himiko, providing perhaps the first solid evidence that she was given the mirrors by a Chinese emperor.
Wang Chenyi, a Chinese researcher from Henan province, recently reported in a local archaeological journal that he bought the bronze mirror from a farmer at an antiques market in the ancient capital of Luoyang around 2009.
The mirror is similar in design to Sankakubuchi Shinjukyo (triangular-rimmed deity-and-beast mirrors) widely discovered in Japan. They are believed to have been produced around the third century.
The mirror in China measures 18.3 centimeter in diameter and is 0.5 cm thick, relatively small compared with mirrors that have been unearthed in Japan. A circle in the middle of the mirror's backside features engravings of deity figures and holy animals, while outer rings have a triangular rim with double-wave patterns.
Those characteristics are common in Sankakubuchi Shinjukyo design.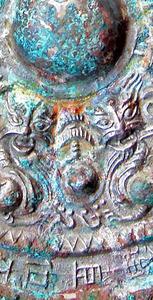 A close-up of a bronze mirror recently discovered in China (Provided by Wang Chenyi)
The farmer who sold the mirror was from the outskirts of Luoyang, but the exact location of the mirror's discovery was unknown, Wang wrote in his article.
Luoyang was the capital of the Wei Dynasty (220-265). The Gishiwajinden (Biography of the Wa people) chronicle in Wei Zhi, the official history book of Wei Dynasty, says an emperor of Wei presented 100 bronze mirrors to Himiko's emissary in 239.
Archaeologists suggest that the mirrors given to Himiko were Sankakubuchi Shinjukyo because some of them were inscribed with the year 239.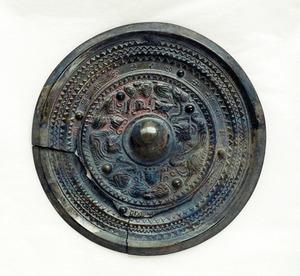 A Sankakubuchi Shinjukyo mirror unearthed from the Kamotsuba ruins in Gose, Nara Prefecture (Asahi Shimbun file photo)
More than 500 mirrors have been discovered from the northeastern Tohoku region to the southern island of Kyushu, including many in the Kinki region.
However, no bronze mirror similar to Sankakubuchi Shinjukyo had been discovered in China, leading some archaeologists to believe that all of the mirrors were made in Japan.
Archaeologist Hatsushige Otsuka, a professor emeritus of Meiji University, said Wang's bronze mirror is likely the first Sankakubuchi Shinjukyo discovered in China because pictures of his finding show many of the latter's characteristics.
"But since just one mirror has been discovered so far, archaeologists must closely watch if further discoveries will be made in China," he said.
The exact location of Himiko's kingdom, called Yamataikoku, has long been a mystery and the subject of academic debate. The latest discovery could influence the course of the discussion to determine the kingdom's location.