Louxor (Egypte) : new Ramses-era tomb  discovered
Louxor (Egypte) : new Ramses-era tomb  discovered
Al-Masry Al-Youm
Source - http://www.egyptindependent.com//news/japanese-mission-discovers-new-ramses-era-tomb-luxor
An archaeological Japanese mission in Egypt discovered a new cemetery in Khoja area in the West Bank, Luxor, that likely dates back to the "Ra'amesa" era.
The cemetery is attributed to a person named "Khonso" who served as royal scribe.
The Nineteenth and Twentieth Dynasties of the New Kingdom are a period of history known to Egyptian archeologists as the "Ra'amesa" era, after the famous Ramses Kings who ruled Egypt during this period.
The Ministry of Antiquities said in a statement Tuesday that the cemetery was discovered during an archaeological survey carried out by the mission to the east of the front yard of the cemetery of Osarhat.
The adjacent cemetary is attributed to Osarhat, who was a senior statesman under the reign of King Amenhotep III, according to the ministry's statement.
"While cleaning the east part of the front yard of the cemetery of Osarhat, a large hole was found carved into the north wall," the statement quoted Director of Mission Jiro Kondo as saying.
The hole turned out to be an entrance to Khonso's cemetery.
The new discovery shows that there may be other cemeteries in the same area, yet to be discoved, of senior statesmen from the New Kingdom era, Kondo said.
The cemetery contains important inscriptions and scenes, including one that depicts the Sun God Atum Ra in his boat with four baboons kneeling in front of him.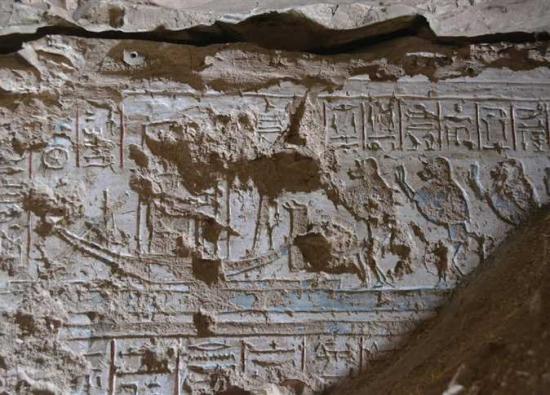 Kondo pointed out that more scenes will likely be discovered in the inner chamber of the tomb, currently still covered by large stone blocks.
The Antiquities Ministry mentioned in its statement that it plans to do more research on the owner of the discovered cemetery and his statue over the coming period.