Fiona Keating
Source - http://www.ibtimes.co.uk/ancient-egyptian-statue-princess-iset-discovered-by-archaeologists-luxor-1439491?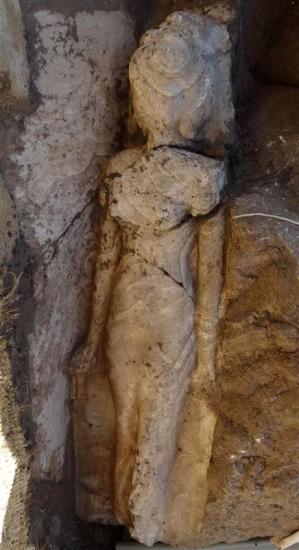 Rare statue of Princess Iset discovered in Egypt - Egyptian Ministry of Antiquities
A statue of an Egyptian royal lady more than 3,350 years old, who was Pharaoh Tutankhamun's aunt, has been unearthed by archaeologists.
The figure of Princess Iset was found at the temple of her father, King Amenhotep III, on the western bank of the Nile in Luxor, said Mohammed Ibrahim, the Egyptian antiquities minister.
The rare find is the first known representation of Iset along with her father, the ministry said. Sculptures on display at the Egyptian Museum show Princess Iset and her siblings together with Amenhotep who ruled Egypt around 1388BC-1348BC.
The face of the alabaster statue has been eroded and the feet remain to be discovered. But the princess's round wig can be clearly seen and she holds a menat necklace, which is associated with the goddess Hathor.
The deity was one of the most important in Ancient Egypt and often depicted as "Mistress of the West" welcoming the dead into the next life. In other roles she was a goddess of music, dance, foreign lands and fertility who helped women in childbirth
The statue was excavated at the funerary temple of King Amenhotep III, a site famous for the Colossi of Memnon, two seated statues of the king that still flank the temple's entrance.
The newly discovered statue, which is 170cm high and 52cm wide, forms part of another colossus of the king. Egyptian minister Ibrahim said that the statue was once part of a larger statue that was nearly 14 metres (45 feet) tall and guarded the entrance to a temple.
In recent years, archaeologists have been piecing together this 14m-high statue from fragments uncovered during excavations. The princess, depicted at a much smaller scale than Amenhotep III, would once have stood between her father's feet, according to the Art Newspaper.
Princess Iset held the title of Great Royal Wife and was given the epithet, "beloved of her father". She is one of eight known daughters of Amenhotep III, though the names of only five have been preserved.