Londonderry (G-B): Child skeleton uncovered in Bishop Street car park may date back to Siege of Derry
Londonderry (G-B): Child skeleton uncovered in Bishop Street car park may date back to Siege of Derry
Donna Deeney
Source - http://www.belfasttelegraph.co.uk/news/local-national/northern-ireland/child-skeleton-uncovered-in-bishop-street-car-park-may-date-back-to-siege-of-derry-29584114.html
The human remains found believed to be of a child aged between six and 10 years old
The skeleton of a child aged between six and 10 years old was among three unearthed by archaeologists during a dig in Londonderry.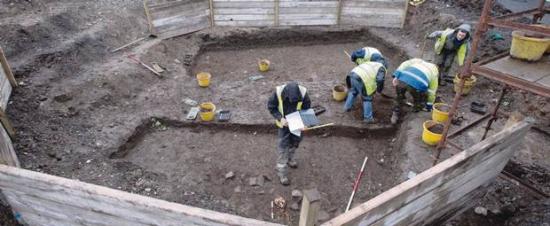 The excavation site in Bishop Street car park
The discovery was made by the team excavating a car park in Bishop Street near St Augustine's Church, which dates back to the Siege of Derry.
Dr Emily Murray, director of the Centre of Archaeology at Queen's University Belfast, is leading the excavation.
"We have uncovered the entire skeleton of a child and while it is not possible to say if it is male or female, we know from the presence of milk teeth and the way the bones have not completely fused that this is the skeleton of a child between six and 10," she said.
"There are also two skulls.
The bones and other materials, such as gun flint, lead musket shot, coins, clay pipes and coarseware pottery all suggest that the items belong to the 17th century, when the Siege of Derry took place – 1688 to 1689."
Dr Murray continued: "It was always a possibility that we would find human remains when there is a graveyard over the wall.
"We only have a window of three weeks and this weather is slowing progress, but there could be even older treasures.
"It seems probable where we are digging would have been the gardens associated with the Bishop's Palace which occupied the site of the car park from the early 17th century through to the mid-20th century."
One man who is convinced there are even older artifacts is Mark Lusby from the Holywell Trust, who championed the excavation.
"Not only is it relevant because of the proximity of St Augustine's church but it is also believed to the site of Colmcille's monastic site and where the first sets of city walls were built," he said.
"It is important that this site is not covered in tarmacadam again.
"It is the holiest of holy grounds for both communities and it should be a garden of reflection instead of somewhere to park shoppers' cars."
Environment Minister Mark H Durkan said: "The find will hopefully shed a light on what existed at this important site many centuries ago."
BACKGROUND
What has been uncovered so far:
A piece of worked goat horncore – the bony protrusion from the skull that protect goats' horns – cut and pierced, with a decoration. This type of material rarely survives on archeological sites as it is made from keratin.
A piece of worked goat horncore
Coins made from a French copper alloy from the early-17th Century. It is difficult to make out the year but it may be 1643 or 1618.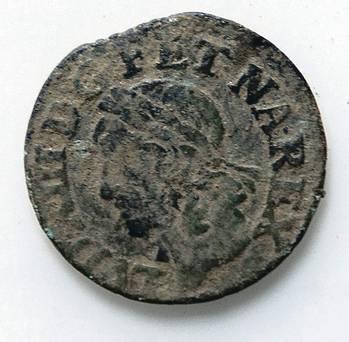 A coin made from a French copper alloy
Ridge tile, small, bulbous clay pipe bowls which also date to 17th Century.
Bits of unglazed coarseware pottery and clay pipe stem fragments from the same period or the following century.