Llandudno (G-B): Skeleton of arthritis-suffering neolithic woman 
Llandudno (G-B): Skeleton of arthritis-suffering neolithic woman 
Ben Miller
Source - http://www.culture24.org.uk//history-and-heritage/archaeology/art503347-skeleton-of-arthritis-suffering-neolithic-woman-at-centre-of-archaeological-crowdfunding-bid?
Blodwen, the 5,500-year-old skeleton of Llandudno, could have been an elder who suffered arthritis and cancer.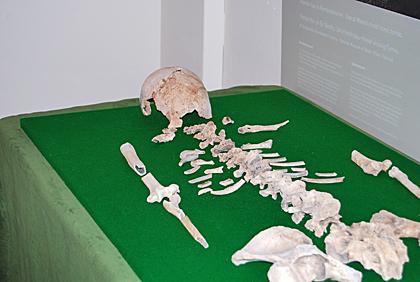 © Courtesy Llandudno Museum
The "special" skeleton of a hardworking lady who lived in neolithic Wales 5,500 years ago will be given a fitting public showcase if a six-week crowdfunding appeal succeeds in raising £3,000.

The remains of the woman, who is known as Blodwen and suffered arthritis and cancer, have been held by a natural history society in Lancashire since being discovered on Little Orme in 1891.
Curators hope to create an exhibition, display case and community programme after welcoming the bones back to the region in 2015.

"Blodwen provides us with a window into Llandudno's ancient past more than 5,000 years ago," says Helen Bradley, of Llandudno Museum.

"Her bones tell us that she was in her late 50s to early 60s when she died and that she was used to hard work and suffered with arthritis.

"We also know that Blodwen had secondary cancer, although we can't be sure whether this caused her death.

"Her advanced age suggests that she may even have been a respected elder within her community.

"Blodwen is very close to a lot of peoples' hearts in Llandudno.

"She's such a special part of our heritage, and local people love to imagine what her life may have been like – where did she live, how did she see the world, what did the landscape look like 5,500 years ago?

"Imagine Blodwen's world - coming from a small farming community, perhaps somewhere near to the Litte Orme where she was found.

"Blodwen provides us with a real link to our distant past, and I think it's wonderful that the museum wishes to bring the community together to celebrate Blodwen and provide people with a way to learn more about life in Neolithic in North Wales.

"We want to tell Blodwen's story for the benefit of everyone who comes to see her.

"We want to join with the wider community to celebrate this hugely important part of our shared heritage."