How long have humans lived in Southwest Florida?
Kate Spinner
Source - http://www.heraldtribune.com/article/20120109/ARTICLE/120109582
From 12,000 to 13,000 years ago, early humans may have lived in Southwest Florida, among mammoths and saber-tooth tigers. If they did, the evidence of their lives — arrows, spears or markings on shell and bone — is likely to lie 90 feet beneath the watery surface of Little Salt Spring.
John Gifford, a marine archaeology professor at the University of Miami, hopes that evidence — the first of its kind in Florida — rises to the surface later this year.
Last summer, he and divers from the Florida Aquarium uncovered the undersides of two giant land tortoises resting next to each other. Their unusual position suggests human involvement.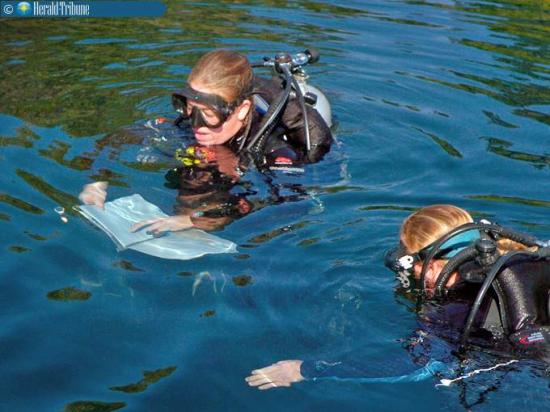 University of Miami students Michelle Penkrot, left, and Marina Knize, right, prepare to collect artifacts in Little Salt Spring in North Port on Thursday. The divers use waterproof paper to take notes while under water.Photo Dan Wagner
If markings, other artifacts and carbon dating prove that humans butchered the tortoises 12,000 years ago or earlier, it would be an archaeological breakthrough.
Dr. John Gifford, marine archaeologist with the University of Miami, holds a giant tortoise shell fossil excavated from Little Salt Spring in North Port. (Jan. 5, 2012) (Herald-Tribune staff photo by Dan Wagner)
"That actually would represent the oldest traces of human activity in the Southeast United States," Gifford said.
Circumstantial evidence points to human activity there during the time of the mammoths, but Gifford has yet to find hard proof.
A library of artifacts, tucked in plastic bags and stored in a wall of wooden pull-out shelves and metal cabinets cramps Gifford's aged research trailer near the spring. There are remains of mammoths, saber tooth tigers and giant tortoises, but none so far show signs of human interaction.
"What we need to find is an absolutely incontrovertible artifact that is directly in the remains of the tortoises," Gifford said. Since 1992, Gifford and his students and colleagues have collected 5,000 artifacts from the spring. None of the human tools found so far date back more than 10,000 years.
Even those tools remain mysterious. One piece, carved from a 7,000-year-old deer antler, has a hole drilled through it as though it might have been a handle.
Another 8,000-year-old antler piece has exactly 28 notches carved into it, the number of days in the lunar cycle. A 9,500-year-old wooden stake was one of about two dozen that still ring the circumference of the spring's slope. They were found 30 feet deep.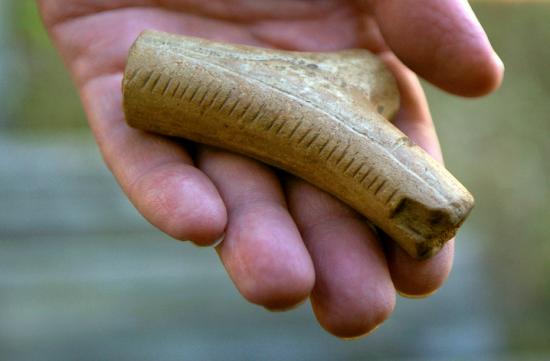 Photo Dan Wagner
On Wednesday at 6 p.m., those pieces and others will be on display at Sarasota's Selby Library. Gifford will also give a lecture.
Gifford first read about Little Salt Spring as a graduate student at the University of Minnesota in the 1970s.
Archaeologists had discovered it as a burial site and unearthed several well-preserved bodies, dating back about 7,000 years. More bodies remain, but laws today make uncovering them too difficult for archaeologists to pursue.
The site features a rare combination of very old, well-preserved material. The spring depths are so starved of oxygen that nothing survives to gnaw away at history. Artifacts of wood and other organic materials remain preserved.
The site today sits about 15 feet above sea level and is 10 miles from the Gulf of Mexico. It likely formed from a sinkhole 15,000 years ago, when the ocean — and the water table — sat more than 300 feet lower than today. Over the years, the sea rose. The ledge at 90 feet that contains the mammoths was once the spring's rim, about 11,000 to 13,000 years ago.
Over time, the water rose more; the slope at 30 to 40 feet marked the spring perimeter between 7,000 and 10,000 years ago.
"The hardest concept to convey to people is that 10,000 years ago, that was not under water," Gifford said.
General Development Corp., the same company that developed North Port and Port Charlotte, owned the spring during the first major discoveries. The company left it undisturbed and in 1982 donated it to the University of Miami.
Ten years later Gifford took a job with the university that would bring him to the spring roughly three to four times a year.
Gifford studies only Little Salt Spring, which offers a lifetime of work.
Gifford's enthusiasm for the spring emerges in his subtle smile while showing off treasured pieces or talking about discoveries yet to come.
It is a sharp contrast to the exuberance of a student, dripping wet from a dive where she thought she might have seen an arrowhead. Ten of Gifford's students, and his colleague, Steven Koski, excavated a 6-square-foot area at about 30 feet deep last Thursday. Artifacts there may be as old as 10,000 years. The dig, mostly designed to provide field experience to students, continues through Friday. The dig for the tortoises awaits state grant funding, which would pay for a dive with the Florida Aquarium in the summer.
Last Thursday an alligator lounged on the spring bank, just yards from the dig site, which was visibly marked 30 feet below.
Ignoring the alligator, Koski and two students slipped into the spring like otters.
Koski carried a writing tablet to communicate under water. The students carried clipboards with waterproof graph paper and pencils to mark coordinates.
Each potential find is marked with a tag, mapped on paper, photographed and then secured with bamboo skewers.
Once the entire square is explored and marked, it is videotaped to provide context for scientific research, Koski said.
"When you excavate a site, you destroy it," he said.