Lincoln (G-B): Boot-wearing high-status Saxon with infected legs among 10 skeletons found
Lincoln (G-B): Boot-wearing high-status Saxon with infected legs among 10 skeletons found
Ben Miller
Source - http://www.culture24.org.uk/history-and-heritage/archaeology/art486962-Boot-wearing-high-status-Saxon-infected-legs-among-skeletons-found-Lincoln
Archaeologists will investigate the injuries and infections of 10 bodies found at the medieval Lincoln Castle
Seven adults and three children, thought to have died during the Saxon era, are being examined in Lincoln© Lincolnshire County Council
A high-status Saxon suffering from severe infection to his legs, wrapped in linen and reburied in a church wall, could undergo DNA tests alongside a stabbed teenager as part of the £22 million refurbishment of the medieval Lincoln Castle.
Found in a limestone sarcophagus, the powerful Saxon – described as holding "national significance" by archaeologists – was a former rickets sufferer in his early 20s who died wearing his boots.
The oldest child bore evidence of a stab wound© Lincolnshire County Council
Despite the disease to his legs, experts admit uncertainty surrounding his cause of death. One of the three children found would not have been older than six, with one of the other two – aged between 10 and 14 – bearing the scar of a stab mark from around the time of their death.

"The limestone sarcophagus is now with a stone conservator and is drying out nicely," said Mary Powell, of the Lincoln Castle Revealed project.
"The leather from his boots has also been sent for analysis. Apparently they were made of a single piece of leather held to the feet with tongs."

The remains were found in a newly-discovered Saxon church during the creation of a lift and stair tower at the imposing Norman castle. Thought to date from around 900 AD, the adults include four men and three women, all aged between 18 and 45.
"DNA analysis is the next stage and will add to our current profile of these individuals by reconstructing their diet, identifying where they came from and placing them in the wider context of how life was lived in Saxon Lincoln," added Powell.

"We're also planning facial reconstructions using the skeletons that are in the best condition.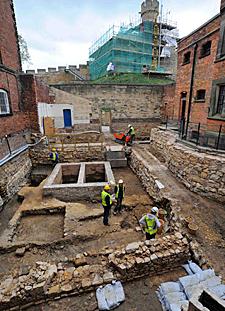 Only one of the bodies was afforded special treatment in its burial© Lincolnshire County Council