Source - http://www.bbc.co.uk/news/uk-england-lincolnshire-23004369
The dig has reached a depth of 3.5m below current ground level
A Roman townhouse is probably located underneath Lincoln Castle, according to archaeologists digging at the site.
The team have already reached the foundations of the Norman phase of the castle during their work.
Archaeologist Cecily Spall said the dig had reached a depth of 3.5m with another half-metre of digging left to complete.
The area is being excavated prior to a revamp of the castle.
"We have been working since September - and have reached the level of the Norman castle - from the mid 11th Century," Ms Spall said.
She said they had found evidence of timber-framed buildings which may have been part of a medieval stable block.
"We expect we will find a Roman townhouse at about 4m depth below ground level," she added.
Lincolnshire County Council aims to refurbish the castle so it can become a major tourist attraction.
Ms Spall said: "We will gradually piece together using the artefacts that we find.
"We have found an enormous amount of animal bones and pottery and this can tell us an enormous amount about the lifestyle of the castle inhabitants, including what they were eating, how high status they were and how rich they were."
A previously undiscovered church, thought to be at least 1,000 years old, has also been found beneath the castle.
It is believed the stone church was built in the Anglo-Saxon period, after the Romans left Britain and before the Norman conquest of 1066.
The finds will form part of an exhibition at the castle.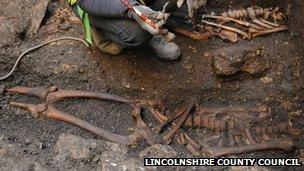 A Roman fort was built at the site in about AD 60
The Romans abandoned Lincoln and Britain in AD 410
William the Conqueror built Lincoln Castle in 1068 on the site of the Roman fortress
For 900 years the castle was used as a court and prison