Lincoln Castle (G-B): Dundee experts recreate face of Saxon man
Lincoln Castle (G-B): Dundee experts recreate face of Saxon man
Roddy Isles / University of Dundee
Source - http://www.dundee.ac.uk/news/2015/dundee-experts-recreate-face-of-saxon-man-at-lincoln-castle.php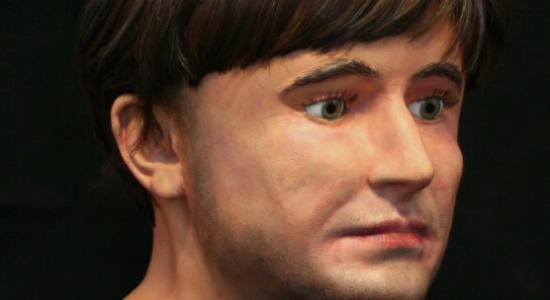 Facial reconstruction experts at the University of Dundee have recreated the face of a Saxon man whose skeleton was discovered on the site of an old church at Lincoln Castle.
On Monday 8th June, the new-look castle will be officially opened by HRH The Princess Royal. On that day, a new exhibition will be revealed in the Victorian Prison, sharing some of the archaeological finds unearthed during the Lincoln Castle Revealed project.
As part of the exhibition, experts at the University of Dundee have recreated the face of an Anglo Scandinavian man whose skeleton was discovered on the site of an old church within the castle grounds. The skeleton was one of ten sets of remains discovered.
The work has been carried out by specialists in the Centre for Anatomy and Human Identification (CAHID) at the University of Dundee, one of the world's leading centres for facial reconstruction.
Caroline Erolin, Lecturer in Forensic and Medical Art at CAHID, said, "His grave lay slightly under an important sarcophagus burial, which had resulted in excellent preservation of his skull making it the best candidate among the skeletons for facial reconstruction."
Caroline and the CAHID team worked with field archaeology specialists FAS Heritage and Lincoln Castle to piece together the likely history of the man and how he would have looked.
"The burial of this man was one of eight burials which were interred inside a small stone church or chapel which predates Lincoln Castle and was previously unknown," said Cecily Spall from FAS Heritage.
"Osteological analysis identified the skeleton as that of a man aged between 36 and 45 years old. He had suffered from a range of degenerative bone diseases suggesting an active and strenuous lifestyle. His body was buried in both a wooden coffin and cloth shroud.
"High-precision radiocarbon dating indicates he died between AD1035 to 1070, just before the Norman Conquest. Isotope analysis of his bones and teeth suggests that he originated in eastern England and could well have been born and bred in Lincolnshire."
Other significant finds at Lincoln Castle include a limestone sarcophagus that once lay under the floor of the church, a rare discovery which attracted national media attention.
There is also a Roman bronze eagle's wing from the late 1st century AD, possibly part of a grand imperial statue that stood in the nearby forum, and a stone scratched with the names of prisoners awaiting transportation to Australia.
CAHID, which is headed by Professor Sue Black and based at the University of Dundee, is one of the world's foremost institutions for the study and application of human anatomy, forensic human identification, disaster victim identification and forensic and medical art. It was awarded the Queen's Anniversary Prize for Higher Education 2014.
VIDEO = Lincoln Castle Reconstruction by cderolin on Sketchfab