Life along the river Trent (G-B) uncovered at Nottingham Castle
Life along the river Trent (G-B) uncovered at Nottingham Castle
Life Along the River Trent uncovered at Nottingham Castle
Source : http://www.nottinghamcity.gov.uk/index.aspx?articleid=12767
A new exhibition to celebrate life along the River Trent opens at Nottingham Castle Museum & Art Gallery on 11th December, in the Mezzanine Gallery.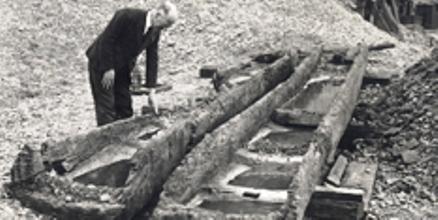 Artefacts from a variety of time periods will be on show, including woolly mammoth which walked the river flood plains c 50,000 years ago, important and rare Bronze Age weaponry, and models of the Iron Age log boats from Holme Pierrepont. More recent objects are also on display including a gavel made from wood taken from the old Trent Bridge, medals and even an invitation relating to the opening of the current bridge. Many of the items displayed are on view to the public either for the first time ever or for the first time in many decades.
The River Trent makes a bold statement in the geography of the East Midlands, as it travels from Biddulph Moor in Staffordshire to the Humber. In its time the river has been a natural and cultural barrier between the north and the south and a major trade route, encouraging the development of industry to the towns and cities along its banks. It has been a site of historical significance through the ages, playing host to the Vikings, the civil war and the Wars of the Roses as well as being an inspiration to many composers, poets, writers and painters. It has been a place of recreation and danger in times of flood and is classed by some, as the richest river in Europe for archaeology. It is these facts that make the exhibition so fascinating.
Flagship volunteers from Berridge and Arboretum Wards in Nottingham have participated in a 'Revisiting Collections' project using material from the exhibition and recording their thoughts about the objects. Some of their comments are to be found amongst the supporting information.
Councillor Dave Trimble, Nottingham City Council's Portfolio Holder for Leisure, Culture and Customers, said, "The River Trent plays an important part in the history of Nottingham. This exhibition presents a wonderful opportunity for the public to discover just how fundamental the river has been in the development of this city and the region. We have on display a wealth of materials including some dating back to prehistoric times - it's fascinating."
Ann Inscker, Collections Manager Archaeology, History and Natural Sciences says 'The site photographs, where we have them, show the extreme nature of archaeology in the 1930s and 1960s gravel pits. These amateur and professional archaeologists are to be praised for their determined effort in unpleasant conditions and poor weather, saving important artefacts, recording sites and contributing to the Trent's archaeological legacy.'
.