Leith (G-B): Leithers from 14th Century brought to life
Leith (G-B): Leithers from 14th Century brought to life
Source -http://www.bbc.com/news/uk-scotland-edinburgh-east-fife-28460421?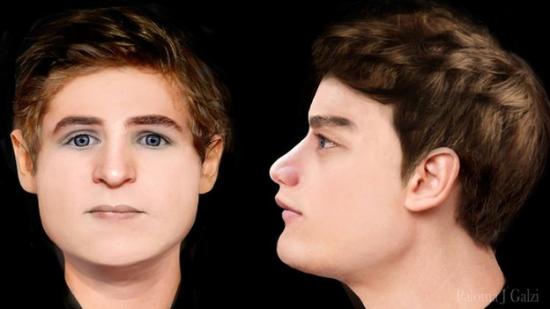 This is a man aged 13-17 who died between 1393-1445. Strontium and Isotopic analysis indicates he grew up in or around Leith and Edinburgh. Carbon and Nitrogen analysis indicates he had a predominantly animal meat/dairy diet with some marine fish
Archaeologists in Edinburgh said five years' work has shed new light on the lives and deaths of people in Leith from as long ago as the 14th Century.
It follows a dig as part of preparation for the capital's tram project.
A dig around Constitution Street in Leith in 2009 uncovered the graves of about 400 people.
Detailed work on 30 skeletons reveals the population seems to have been shorter than average for the country at that time, and to have eaten less fish.
In spite of Leith's importance as a port there also seems to have been no foreigners buried at the site.
Some remains were thought to have been buried in a previously unknown section of South Leith parish church's graveyard but some may have been from the medieval St Anthony's hospital, destroyed in the 16th Century.
Hi-tech reconstruction
Archaeologists said their findings were an exciting insight into Leith's rich history.
Forensic artists have now unveiled what the medieval residents of the former burgh might have looked like some 500 years ago.
A team of experts from Dundee University reconstructed the faces.
Now detailed analysis by Edinburgh City Council's archaeology service and Headland Archaeology, in partnership with Aberdeen University, has revealed the age, sex, build and pathology of the people.
Artists from Dundee Universityhave used hi-tech reconstruction techniques to reveal what some of them looked like.
Richard Lewis, Edinburgh City Council's culture convener, said: "The unearthing of such important remains was a major discovery five years ago, but to be able to gain an even closer insight into Leith's medieval past is incredibly exciting.
"Edinburgh has an undeniably rich and interesting history, but work like this means the whole city can truly appreciate our heritage."
John Lawson, city archaeologist, said: "This is one of the largest and most important urban excavations of human remains undertaken in Edinburgh and Scotland in recent years.
"The results have shed new light on the lives of the medieval population in one of Scotland's largest and most important ports.
"It has allowed us to highlight the lives of the ordinary person in Leith, by putting a face to these individuals and showing how they lived and died."