Lapland (Finlande): Forestry officials unearth stone spearheads
Lapland (Finlande): Forestry officials unearth stone spearheads
Source http://yle.fi/uutiset/forestry_officials_unearth_stone_spearheads_in_northern_lapland/7335582
Archaeologists in Finland are celebrating the discovery of a number of artefacts in Lapland, northern Finland. A series of surveys by the forestry watchdog Metsähallitus has unearthed hundreds of hunting pits, several prehistoric habitations, pottery shards and a stone spearhead.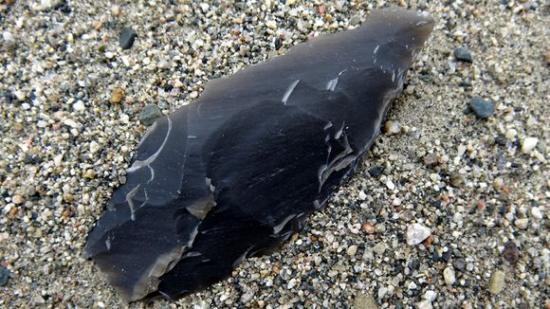 Mapping exercises by Metsähallitus unearthed a rare stone spearhead in Lapland. Image: Metsähallitus Sami Viljanmaa.
The most exceptional part of the archaeological find was a stone spear tip or a possible prehistoric knife, which was discovered close to the Norwegian border. The stone implement has been uncovered by high winds as it lay in a sand pit. Experts estimate that the rough blade had been used during the Stone Age or the early metal age, making it at least two thousand years old.
"It's amazing to find an intact object, because when we map ancient artefacts we usually only find fragments generated during the creation of these objects, in other words waste," archaeologist Sami Viljanmaa said in a Metsähallitus statement.
The age of the rough blade has been estimated at around 2,000 years. Image: Metsähallitus Sami Viljanmaa.
The series of surveys was rolled out ahead of the demolition of an old border guard post at Munnikurkkio. The operation unearthed prehistoric dwelling areas north of the lake on the Ropi fells. Archaeologists also found pottery shards along the banks of the Lätäseno River. Previous pottery finds were concentrated only in one dwelling area in Kilpisjärvi.
The Metsähallitus surveys uncovered as many as 3,000 hunting pits, indicating that deer hunting was an important activity in prehistoric times. The researchers found two trapping systems along the river banks, in which ancient hunters had dug 80 pits to catch their prey.
Archaeologists say that these shallow pits may have been used by prehistoric hunters to trap deer.Image: Metsähallitus Sami Viljanmaa.
Metsähallitus will continue its mapping exercises in northwest Lapland in the Kilpisjärvi area. The organisation said it believes that several major finds are still to be discovered.