Lakhisarai (Inde): Discovery of 1200-year-old structure
Lakhisarai (Inde): Discovery of 1200-year-old structure
Piyush Kumar Tripathi
Source http://www.telegraphindia.com/1160128/jsp/frontpage/story_66166.jsp#.VqpA7PnhCM8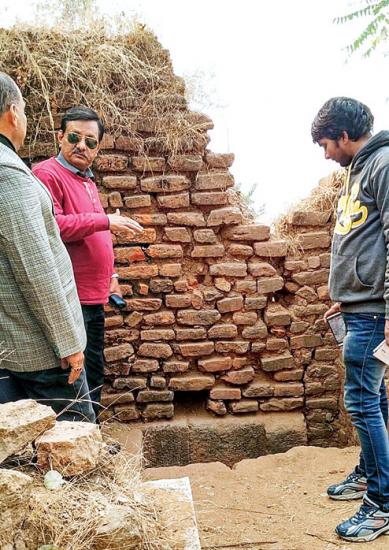 Atul Kumar Verma (in sunglasses), director of the state archaeological directorate, with other officials at the fort site
Archaeologists have stumbled upon a 1,200-year fort atop a hill near Lakhisarai town, the structure said to be the first such from the Pala period to be discovered in Bihar.
The fort has underground rooms, several secret exit doors and watchtowers, indicating that it was well equipped to tackle attacks from invaders.
The fort was discovered in the last week of December when the soil on the hill called Lal Pahari (Red Mountain) in Lakhisarai district, about 125km east of Patna, was being dug for building a stage.
"Though we have found monasteries belonging to the Pala period at places such as Nalanda, Vikrasmshila, Telhara (Gaya) and others, this is the first time that a fort belonging to that period has been discovered. The size of the bricks used in this fort is similar to those found in other Pala period structures in Bihar," said Atul Kumar Verma, director, Bihar state archaeological directorate.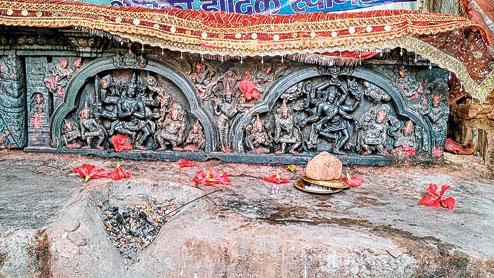 A Pala period statue of Hindu gods and goddesses made of black basalt at Lal Pahari near Lakhisarai, where the ancient fort was found. Telegraph pictures
Bijoy Kumar Chaudhary, director at Patna-based KP Jayaswal Research Institute, affirmed that there is a possibility that the Pala Empire, which originated in Bengal, had its presence in the Lakhisarai region as well.
"Pala period inscriptions have been found in the Lakhisarai region in the past. Even geographically, Lakhisarai is nearer to Bengal. Theoretically, there is a higher possibility of a local ruler from this region having allegiance to Pala rulers. Such a practice was commonly found in this region during that period," said Chaudhary.
According to historical texts, the Pala stronghold was located in Bengal and Bihar covering major ancient cities like Pataliputra, Vikrampura, Ramvati, Munger, Tamralipta and Jaggadala. Historians, among them the noted epigraphist D.C. Sircar, have established on the basis of analysis of evidence that Lakhisarai was a reputed religious centre for the Hindus in the Pala period. Lakhisarai has also been claimed to be the capital for a period of the Pala Empire.
Brick walls and watchtowers discovered at the fort
Though a thorough excavation is still to be carried out, local residents have excavated an area spread across 200m up to 3m under the ground. Officials said the walls of the underground rooms were made using granite blocks, while several watch towers constructed all around the fort were built with bricks.
With only a small portion of the structure visible at present, the state archaeological directorate is expected to request the Archaeological Survey of India (ASI) for further excavation at the fort site. ASI's central advisory board of archaeology gives the approval on the annual licence to carry out excavations at an archaeological site.
"We are quite certain that this fort belongs to the Pala period and it is highly significant from an archaeological point of view. We would be applying for an excavation licence from the ASI for excavating the fort site in June. Till then, we would do basic conservation work at the site, including its protection and cleanliness," said Verma.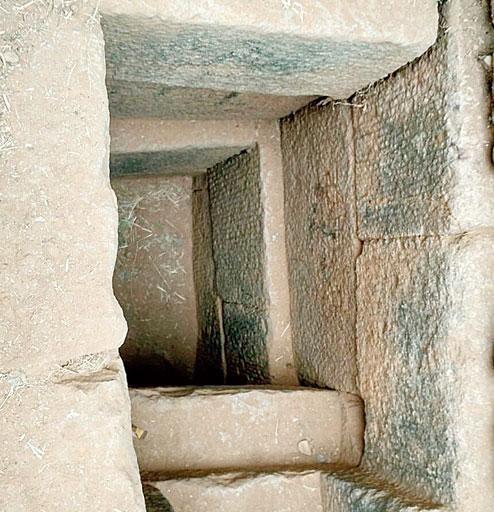 Granite blocks leading to underground rooms inside the fort
Officials point out that British archaeologist Alexander Cunningham also mentioned the fort in his archaeological reports. "Cunningham, in one of his reports in the 19th century, wrote about an ancient town between Lal Pahari and adjacent Kali Pahari (Black Mountain). Hence, we believe it might have been a mountain fort. Besides, coins belonging to the period of Delhi Sultan Alauddin Khilji (AD 1296-1316) have also been found from this region," said an expert in the archaeological directorate.
Recently, several copper coins of Alauddin Khilji were discovered at Jayanagar near Lakhisarai town when residents were digging a mound. Later, Anil Kumar, an associate professor of ancient Indian history and archaeology at Visva-Bharati University, Santiniketan, identified the coins as belonging to Alauddin Khilji. Sources claimed that numismatic experts from the National Archives of India, New Delhi, also confirmed the inscription of Alauddin Khilji's name on the coins.
Lakhisarai is a historically rich region. "Lakhisarai and the places around it were quite strategic in the early medieval (AD 550-1200) and medieval period (AD 1200-1800). A large number of historical monuments, including Buddhist monasteries and Brahminical temples belonging to this period, have been found in and around Lakhisarai. The significance of Lakhisarai is also owing to its strategic location in eastern India. It was significant in the inland river trade route as it is located at the confluence of the Ganga, Haruhar and Kiul rivers," said Chaudhary.