Lac Kinneret (Israël) Evidence of 60,000-year old auroch hunting found
Lac Kinneret (Israël) Evidence of 60,000-year old auroch hunting found
A dig site offers a snapshot in time of a hunter-gatherer society that lived here 60,000 years ago.
Noa Shpigel
Source - http://www.haaretz.com/archaeology/.premium-1.632915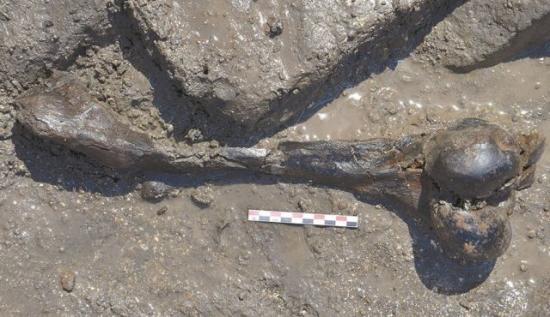 An auroch bone unearthed north of Lake Kinneret. Photo by Gonen Sharon
Eight seasons of archaeological excavations at a site alongside the Jordan River reached an end last summer with good news: The site from 60,000 years ago, tells the story of the ancient hunter-gatherers who wandered the prehistoric Land of Israel in the Middle Paleolithic period.
The excavations at the site, located north of the Bnot Ya'akov Bridge, across the Jordan River north of Lake Kinneret — a region that is rich with ancient archaeological sites — were supervised by Gonen Sharon of Hebrew University and Tel Hai College Upper Galilee, who specializes in prehistoric archaeology. He explains that the site is special because it offers a window into a particular period.
"Usually when you come to an archaeological site it describes a lot of behaviors, a lot of time. Each layer you excavate may have been in use for hundreds and maybe thousands of years," Sharon says. But here the story is different. "This site is a point in time."
Sharon says the site served as a temporary camp for hunters, who would stay for a few days at a time while they hunted, killed and butchered enormous wild cows. It serves as evidence of the cattle that lived here tens of thousands of years ago, before any animals had been domesticated. The local "baladi" beef cattle raised on the Golan Heights today reach a weight of around 400 kilograms. Their ancestor, the auroch (Bos primigenius), weighed in at about 1,200 kilos. But prehistoric hunters were apparently undeterred by the auroch's great size and weight, says Sharon, in light of the flint spearheads and hunting knives found at the site. He says it is difficult to determine the exact hunting techniques they used, but one theory is that the hunters would chase aurochs grazing along the shore of Lake Hula into the muddy-bottomed lake, slowing the beasts down.
According to Sharon, finds at the site attest to the excellent butchering skills of the archaic humans that used it. A significant number of the auroch bones found at the site were unbroken, in contrast to other sites where most of the bones were broken — although in many cases that was at least in part in order to extract the bone marrow. Other animal remains were also found at the site, including those of frogs, snakes, turtles, tortoises and rhinoceroses.
Many questions about these ancient humans are still unanswered, Sharon says: "We don't really understand their thinking and behavior. There are a skull and a femur of a lion at the site. What is the lion doing there? Did they eat the lion, or wear its pelt, or did it just happen by and drown in the mud?"
Because the site was submerged under water until its discovery in 1999, it was very well preserved. Many seeds from edible plants were found, including raspberries, acorns, nuts and water lilies. Other plants long extinct in Israel, such as water chestnuts, were also found too. The abundance of flora and fauna shows that the climate was similar to today, even though Europe was undergoing an ice age at the time.