"Kongo across the Waters" exhibition displayed at NOMA
"Kongo across the Waters" exhibition displayed at NOMA
Connecting artefacts by African Kongo to art and culture in USA
Source - http://www.archaeology.wiki/blog/2015/03/13/kongo-accross-waters-exhibition-displayed-noma/
An exhibition at the New Orleans Museum of Art explores connections of the African Kongo peoples with African American art and culture in the USA.  The exhibition "Kongo Across the Waters"  comprises over 160 works of art and artefacts, including loans from the Royal Museum for Central Africa that have never been on display in the United States and several never before exhibited archaeological discoveries.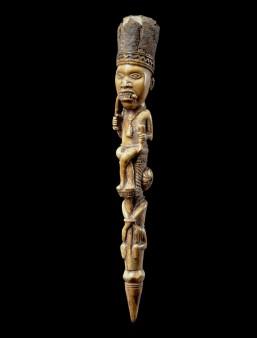 Kongo peoples, Lower Congo, DRC, Ivory scepter, 19th century, Collection RMCA Tervuren, EO.0.0.43708. Photo Credit: R. Asselberghs , RMCA Tervuren©.
The exhibition focuses on an African culture with considerable historical depth, first documented at the end of the fifteenth century in and around the kingdom of Kongo in West Central Africa. Through the trans-Atlantic slave trade, Kongo contributed importantly to the formation of African American cultures. On both sides of the Atlantic, Kongo culture responded to different opportunities and pressures and produced remarkable objects of art that bear the imprint of their time. Today in Africa, Europe and the United States contemporary artists continue to be inspired by Kongo art and aesthetics.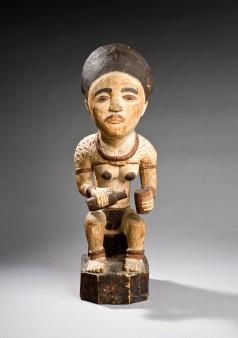 Yombe peoples, Mayombe, Lower Congo, DRC, Wooden grave figure, Early 20th century Collection RMCA Tervuren, EO.1960.32.1. Photo J. Van de Vyver , RMCA Tervuren ©.
The numerous exhibits are organized into sections defined by geography and time. Visitors have the opportunity to be introduced to the Kongo Kingdom and its early encounters with Europeans, examine of the Kongo in the 19th and 20th centuries and then discover archaeological evidence of Kongo in early North America, particularly in the Southeastern United States. The legacies of Kongo culture have also resonated in African American musical traditions, and a short film included in the exhibition featuring Luther Gray and Freddie Evans illuminates some of the New Orleans connections.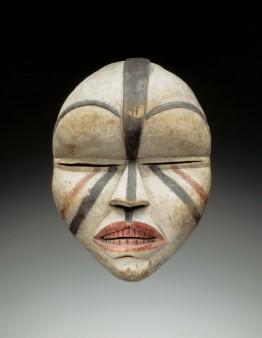 Woyo peoples, Banana, Lower Congo, DRC, Ndunga mask, early 20th century, collection RMCA Tervuren, EO.0.0.34579. Photo R. Asselberghs, RMCA Tervuren ©
The final section demonstrates that Kongo culture continues to inform and inspire contemporary art throughout the Atlantic world.
"Kongo across the waters" is jointly organized by the Harn Museum of Art at the University of Florida and the Royal Museum for Central Africa in Tervuren, Belgium.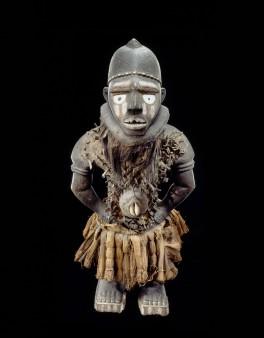 Yombe peoples, Mayombe, Lower Congo, DRC, Anthropomorphic power figure, nkisi nkondi,19th century, collection RMCA Tervuren, EO.0.0.7777. Photo R. Asselberghs, RMCA Tervuren ©