Kollur (Inde): Typical hero-stone found
Kollur (Inde): Typical hero-stone found
Ganesh Prabhu
Source - http://www.thehindu.com/news/national/karnataka/typical-herostone-found-in-kollur/article6874453.ece?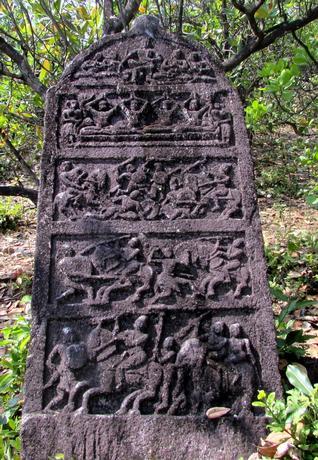 A typical Hero-Stone found at Kollur in Udupi district.
A "Veeragallu" or hero-stone has been found at Kollur in Udupi district. It is a medieval hero stone dating back to either the 13th Century or 14th Century.
In a press release issued here on Monday, T. Murugeshi, Associate Professor in Ancient History and Archaeology, MSRS College, Shirva, said that the typical hero-stone was discovered at Kollur, a famous pilgrim centre of Shakti worship, by Muralidhar Hegde, junior engineer of Sri Mookambika Temple, who brought it to his notice.
The discovery is significant for the cultural history and antiquity of Kollur. Erecting memorial stones in honour of deceased ones was an ancient practice in the country. It was known at least from the Megalithic period, when menhirs were erected in honour of deceased persons. In Ancient India, different types of memorial stones such as hero-stones and Sati-stones were installed in different forms and styles in the country. They have been found in different styles and forms in coastal Karnataka also.
The present hero-stone is divided into five compartments or strips. The three bottom compartments on the stone display war scenes. The fourth strip shows four deceased warriors sitting with their hands raised over their heads and palms joined in a salute posture. In the fifth or top portion, four deceased warriors are shown sitting on either side of a royal person. He is shown seated on a chair, appearing victorious. This is a peculiar feature of this hero-stone. Generally, the deceased are shown sitting near God in medieval hero-stones.
The hero-stone was prepared in the style and form of medieval hero-stones. Hence, it is datable to either 13th or 14th Century. This hero-stone is seven feet high and three feet wide, Prof. Murugeshi said.