Kok Treas (Cambodge): The Iron Age site
Kok Treas (Cambodge): The Iron Age site
Alison
Source - http://alisonincambodia.wordpress.com/2013/04/14/the-iron-age-site-of-kok-treas/
I am very pleased to be able to share some information about the recently discovered site of Kok Treas that was excavated by archaeologists from the Ministry of Culture and Fine Arts earlier this year. When I was in Phnom Penh in February, I stopped by the MOCFA offices and saw them working on burials and ceramics and took a look at some of the stone and glass beads found at the site as well.  The Project Coordinator, Heng Sophady, sent me their final report from the project and also gave me permission to discuss more about their work here after the jump.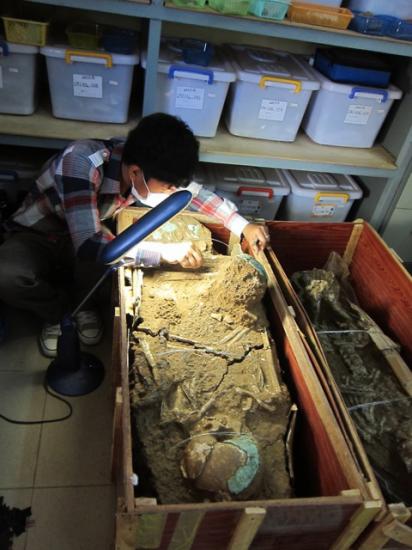 An archaeologist works on a burial from Kok Treas in the MOCFA offices in Phnom Penh.
The site of Kok Treas is located in Banteay Meanchey province in northwest Cambodia near the Banteay Chhmar temple.  Villagers were aware of the site as an Iron Age cemetery since 2000, but apparently major looting activities only began more recently when road construction was planned through the site.  Seven trenches were excavated and five complete burials were identified.  Because the burials were fragile and the site was going to be destroyed during road construction, the MOCFA staff removed the burials and brought them back to Phnom Penh for careful excavation and study. The excavators suspect these date to the early Iron Age period.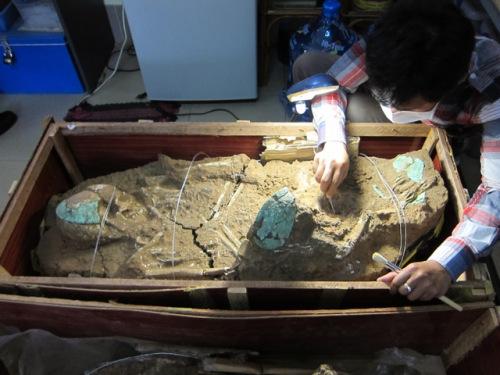 An archaeologist examines one of the burials form Kok Treas.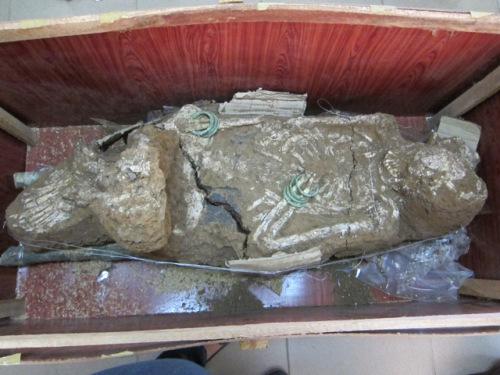 A burial from Kok Treas with bronze bangles.
In Situ burials from Kok Treas Unit 6.
The 5 complete burials from Kok Treas are rather interesting as they were buried in a flexed position (on their back with their knees drawn up).  Many of the burials contained ceramics and bronze objects, but there were only a few stone and glass beads found.  I looked at a few of these in the MOCFA office and they look similar to beads found nearby at Phum Snay and other sites in northwest Cambodia. However, it is unusual that they had so few beads, when some of the sites nearby report having dozens of beads sometimes in a single burial. Although, perhaps burials with lots of beads were already looted.  One burial appears to have had a bronze bowl covering their head, a practice found at the site of Prohear in southeast Cambodia.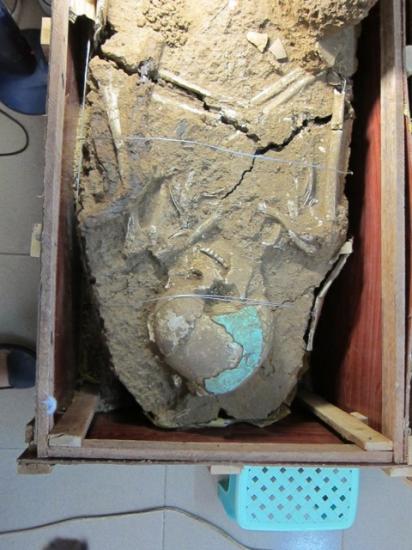 Burial from Kok Treas with bronze bowl covering the head.
Work on the materials at Kok Treas is ongoing and I'm looking forward to hearing more about this site.  This region is thick with archaeological material that predates the Angkorian site of Banteay Chhmar.  Banteay Chhmar's popularity as a tourist site is expected to grow, especially as it may be nominated for World Heritage status sometime in the near future.  However, the prehistoric sites around this area should not be ignored and I am pleased that Sophady and his colleagues at MOCFA are taking a look at this area and had issued recommendations for further protection of these sites.  I will conclude with a note from the Kok Treas report:
    Ongoing archaeological survey and excavations are uncovering new archaeological materials and architectural structure[s] that may explain past activities of our ancestors around the temples and in the ancient city. Such archaeological activity is fundamental to our understanding of the history of each site. Unfortunately, most of the prehistoric sites in the region of Banteay Chhmar temple complex are being damaged by illegal looters checking for valuable object[s]. To address this issue, the General Department of Cultural Heritage, Ministry of Culture and Fine Arts is paying attention and taking measures to conserve potential archaeological remains. The main task is to collaborate with local inhabitants, local and overseas private companies, and organizations working on development projects to share with them the information about the importance of cultural heritage in the Banteay Chhmar historical complex.