Kodumanal (Inde): Ancient factories and foreign trade
Kodumanal (Inde): Ancient factories and foreign trade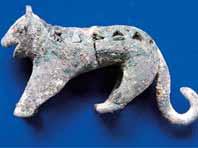 An archaeological dig at Kodumanal in Tamil Nadu reveals what big business was like 2,300 years ago.
It is a long, tiring journey to Kodumanal, a tiny village in western Tamil Nadu — a place virtually unheard of until archaeologists recently unearthed a 2,500-year-old industrial estate there.
The trip from Chennai to this inland village happens in three stages: eight-hour bus ride to Erode (district headquarters), two-hour bus ride to Kangeyam (small town in the textile district of Tirupur), final bus ride to Kodumanal.
The last leg is the most interesting. At first the rickety bus passes farmland and pretty bungalows, but then the surroundings grow barren. There is only the occasional coconut tree. It is hard to believe that this area once held a thriving town. Modern Kodumanal has just around 1,000 people; to make a living they breed cattle and work in the nearby textile town of Tirupur.
The chatty bus conductor asks, "Sir, are you from the archaeological department?" When I shake my head, he says, "So many people from the archaeological department come here these days that I assumed you were one of them."
At the archaeological site near Kodumanal, even at 8 am the sun is merciless. Approaching the arid excavation area, one hears the sounds of digging, and of instructions being yelled to the scores of archaeology students busy on the site.
K Rajan, professor and head of the Department of History at Pondicherry University, leads the team. Rajan is in his early 50s. He stands in the heat talking to the students gathered around. Today is the last day of this dig at Kodumanal.
Kodumanal, Rajan explains, was a manufacturing and trading centre in the 4th century BCE. It is mentioned as such in the Sangam literature of classical Tamil (circa 300 BCE-300 CE). The settlement, which would have accommodated several thousand people in its heyday, appears to have been abandoned after the 3rd century CE.
Archaeologists arrived in Kodumanal in 1961, when V N Srinivasa Desikan of the Archaeological Survey of India (ASI) led the first dig. In 1980 a second, trial excavation was carried out by the Tamil Nadu State Archaeology Department. More digs were executed in 1985, 1986, 1989 and 1990 by the Departments of Epigraphy and Archaeology of Tamil University, with the Department of Ancient History and Archaeology of Madras University, and the State Archaeology Department. However, not much was found. Between 1985 and 1990 the archaeologists laid 49 trenches but collected only 170 inscribed potsherds (pottery fragments).
In 2012 the pattern has broken, and Rajan's team has struck gold. Between April 21 and this week, they laid four trenches and collected as many as 130 inscribed potsherds. Yathees Kumar V P, 32, a PhD student of archaeology from Pondicherry University, has worked at Kodumanal for two months. "I have worked in four different sites since 2005," he says. "In those areas, finding one script itself is a big thing, here in one site we found 130." Kumar and another student have found two large pots, one of which bears a Tamil-Brahmi inscription in tall letters reading "Samban Sumanan" — a name. The pot is 4 ft tall, says Kumar, and was used to store water. Nearly all the newly unearthed inscriptions, in fact, are personal names; a few also refer to the trade performed by the named individual.
The words on the pots are in Prakrit, a north Indian language of the time. This tells us, says Rajan, that Kodumanal had cultural and trade contacts with the north.
Hard, slow work led up to these exciting discoveries. Rajan has been involved in excavating this site since 1984. The last excavation was in 1990. For this year's dig, the professor managed to raise Rs 3.5 lakh from the ASI and the Central Institute of Classical Tamil.
From the trenches have emerged fascinating and beautiful artefacts. Among the more decorative items are semi-finished bangles and bracelets made from beryl, a crystalline mineral. Some of these stones are so pure that they are colourless. One find is a tiger-shaped object made of copper, about 15 cm long (see image above). It was studded with carnelians, sapphires and diamonds. Old quartz stones and broken beads — of sapphire, beryl, agate, carnelian, amethyst, lapis lazuli, jasper, garnet, soapstone and quartz — are strewn across the village. In one memorable case, the archaeologists found 2,220 carnelian beads in a single grave. This may be the first instance of its kind in India, Rajan says.
There are sources of sapphire, beryl and quartz near Kodumanal, but carnelian, agate and lapis lazuli came from distant sources — as far away as Gujarat, Sri Lanka and Afghanistan. The ancient economy, too, was global.
The finds show that workshops for cutting and shaping precious gems, for making semi-precious stone beads, and also, incidentally, for shell-cutting, were present in Kodumanal more than 2,300 years ago. But the workers' technical skills did not begin and end with gem-making. They also worked with iron and steel. In fact, ancient sources of iron ore have been found in and around Chennimalai hill, 15 km to the east. There was, the archaeologists say, "constant movement of foreign traders between Chennimalai, where there are iron ore deposits, and Kodumanal where the ore was processed" and from where finished items were exported. And in Kodumanal itself, Rajan's team has found pieces of a crucible furnace. Such furnaces can withstand heat up to 1,300 C, well over the melting point of cast iron. This find has been confirmed, Rajan says, by Sharada Srinivasan of the Indian Institute of Science in Bangalore, who has examined the crucible.
Kodumanal was one of the earliest wootz steel centres of the world. Wootz steel, a form of carbon steel, was a prized, highly durable speciality of ancient India, and much sought-after in the West. In Roman literature there are references to the import of steel from the Chera country, or south India. References to wootz steel in Sangam literature indicate that Roman Egypt imported its finest steel from here. The rust-free ancient iron pillar still standing near the Qut'b Minar in Delhi is said to be made of iron from this region.
Kodumanal is not far from Tirupur, the textile hub of modern India. Ancient Kodumanal also manufactured textiles. A number of terracotta cotton spindles pierced through the centre with an iron rod have been unearthed here. Incredibly, a well-preserved piece of actual cotton has been found. It is believed to be 2,200 years old.
More proof of Kodumanal's trade links comes in the form of Roman coins, dug up in hoards as well as single pieces. The town lay on a trade route frequented by Roman merchants, who came to buy beryl, quartz and other stones. Goods to be exported to the West were carried by road to the Chera port of Muziris (Pattinam) on the west coast near Thrissur, and then went by ship. Goods for South-east Asia were carried east to Karur, capital of the Chera kingdom, then to Poompuhar near the mouth of the Kaveri, and then overseas. Judging by the trade pattern, and as is suggested by finds of beryl jewellery in eastern Europe and elsewhere, Kodumanal's exports went a long way.
Although Kodumanal is on the Noyyal, a tributary of the Kaveri, the river was not used by shipping. The Noyyal is shallow, rocky and has strong currents, so the trade route followed its banks.
Rajan's findings suggest that only about half of the Kodumanal site, which is about 100 acres in all, was inhabited in ancient times. The other half is a huge burial ground. In the last three months, the archaeologists have opened some 180 graves.
The number of graves is not so unusual, says Rajan, as the kinds of graves. There are three types: pot, urn and chamber stone burials. The last is for people of high status, and in these graves the archaeologists have found gold and other items. A few of the big tombs are surmounted by stone megaliths (though some 300 megalithic tombs in all, of different grades, have been found in the region). The archaeologists have also recovered three skeletons, two female and one male.
One that may be typical is of a person buried with legs crossed, a large stone under one knee and a gold ring in the hand. As Rajan explains, this tells us about the dead person's profession. It was jewellery workers who sat in this position with a stone under a knee, to work the precious stones.
The cists, or chamber burials, come in three varieties depending on orientation, the number of connected chambers and layout. The cists are covered by individual capstones.
The number and variety of the tombs and graves tell us what the rest of the site already makes clear: at its peak this was a prosperous place, with many residents, whose pride in their work, which was organised on an industrial scale, reflected the strong worldwide demand for it.
This is the last day of the dig at Kodumanal. Work has been on for three months, since April, performed by six PhD scholars, numerous students and 40 local labourers. And yet it is as if the archaeologists have merely scratched the surface. There is still a large historical treasure trove, of material and insight not bullion, waiting to be unearthed. According to Rajan it will take another 10 years to complete the excavation.
Not only does this excavation bring to light the rich industrial and cultural past of this region, and reveal to us an important chapter in India's economic history, it also offers the people of Kodumanal a better future. Roads are being laid, drinking water and electricity being provided. Youngsters from Kodumanal have started going to school and college — and some will have been inspired to learn history.