Kingsmead Quarry (G-B): 'beaker burial' woman is rare find
Kingsmead Quarry (G-B): 'beaker burial' woman is rare find
Source - http://www.bbc.co.uk/news/uk-england-berkshire-22251263
Copper Age woman buried with beaker The woman was found with a large drinking vessel placed on her hip
The remains of a "woman of importance" who was buried with a pot during the Copper Age have been discovered in a Berkshire quarry.
Some of Britain's earliest gold ornaments and rare beads were also found in the grave at Kingsmead Quarry, Horton.
Gareth Chaffey, site director at Wessex Archaeology, said the woman could be a princess or a queen.
She lived around 2,500 BC at about the time of Stonehenge.
The woman was found with a large drinking vessel placed on her hip which was decorated with a comb-like stamp.
But the acid nature of the soil around the skeletal remains has damaged them, limiting any scientific DNA analysis.
'Elite family'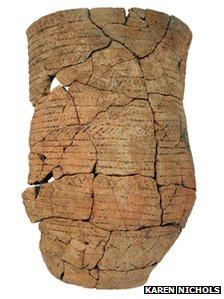 Beaker The 35-year-old woman was buried with a "beaker"
Mr Chaffey added: "She was probably an important person in her society, perhaps holding some standing which gave her access to prestigious, rare and exotic items.
"She could have been a leader, a person with power and authority, or possibly part of an elite family.
"To find someone with such items [4,000 years ago] is extremely important.
"Graves of this type are very, very rare in south-eastern England and it's very rare to find graves of women."
Most "beaker burials" contain male skeletons buried in a crouched position with the head resting to the north and facing east, according to religious custom.
The woman, who was 35-years-old or over when she died, had her body position reversed, with her head to the south.
The jewellery found in her grave was not from the area. The gold may have come from Ireland, with lignite beads from Eastern England, and amber buttons from the Baltic.
Dr Stuart Needham, who is studying the beads, said "only a small number of [these graves] contain gold ornaments".
"The tubular beads that were found at Kingsmead Quarry are certainly rare in Britain, and this gives the grave tremendous research importance," he added.
Recent finds at the quarry, near Windsor, include four Neolithic houses thought to make up one of the oldest settlements ever found in England.
Other finds suggest people have used the area since the end of the last Ice Age, about 12,000 years ago.
The quarry is owned and run by Cemex, which extracts sand and gravel from the site.