Kilskeagh (Irlande):M17 dig reveals finds dating back to 3500BC
Kilskeagh (Irlande):M17 dig reveals finds dating back to 3500BC
Source - http://connachttribune.ie/m17-dig-reveals-finds-dating-back-to-3500bc/?
The excavation at Kilskeagh, which found, where a gathering point dating back to 3500C was uncovered, and (below), an artist's impression of what the gaterhing point may have looked like.
A 'mound' used as a gathering point for rituals dating back to 3500 BC, evidence of medieval treasure-hunting and remains of Famine cottages are among the ancient finds along the M17 motorway.
The finds at 26 excavated sites on the 30km stretch from Rathmorrissy (near Athenry) to Tuam have been recorded in a book entitled 'Through the Lands of the Auteri and St Jarlath', which will be launched next week.
The book takes its title from the Auteri tribe which controlled large tracts of land in the second century AD in what is now Athenry, and 300 years later, where according to legend, St Jarlath founded Tuam.
Of the 26 sites excavated, all but one were previously unknown and were discovered during extensive surveys which had to be carried out before work could commence on the M17 Galway to Tuam and the N17 Tuam Bypass schemes.
According to Martin Jones, one of the book's authors: "Despite the relatively low population, the variable landscape is home to a wide range – though, admittedly, not a huge number – of archaeological sites spanning the period from about 3500 BC to about 1850.
"These sites, both known and as yet undiscovered, are the legacy of the varied Saints, lords and kings who inhabited the land, but mostly, from the excavation evidence, they are memorials – in the shape of kilns, farmyards, burnt mounds and roundhouses – to the common people who lived, worked and died here."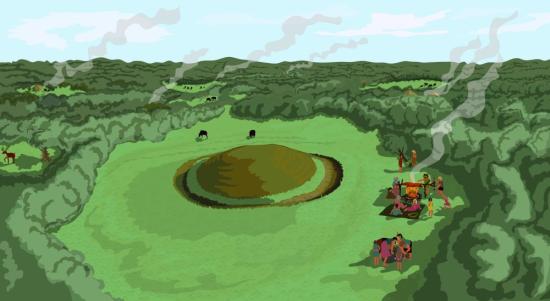 Prehistoric activity was mainly found on the flat flood plains of the Clare, Abbert and Grange rivers in the general area around Tuam and Corofin.
At Kilskeagh (near Monivea), evidence was found of a raised mound – more than 5,600 years old – which was probably used for communal rituals such as feasting.
"This region contained an Early Neolithic enclosure ditch in Kilskeagh townland dating to 3500 BC. This site was located on the crest of a low hill, in an area of some apparent local significance; excavation evidence suggests that the monument was revisited, reused and modified over a period of some 4,500 years.
"The Bronze Age – a period of significant technological innovation – was well-represented on the route; several Bronze Age burnt mounts were excavated, including sites at Annagh Hill, Ardskea Beg and a large cluster at Cloonadrone (which appears to have been used over a period of some 45 generations), as well as a single Early to Middle Bronze Age cremation burial on relatively elevated ground at Mahanagh. These sites represent a mix of probably ritual activity and everyday domestic use," the book's introduction reads.
A previously unknown ringfort was discovered on the route of the Tuam Bypass in Kilcloghans – it had been completely levelled down through the centuries, but when excavated, a well-built, stone-lined souterrain (underground chamber) revealed a wealth of finds.
"The remains of three cottages were found in the relative uplands of Annagh Hill and Bullaun in broad, undulating, open grazing fields. The cluster of cottages in Kilskeagh townland – all now in ruins, either through the rigours of time or deliberate demolition – were the practical dwellings of practical people.
"Many of these excavated cottages appear to have been abandoned – for one or all of the reasons of emigration, eviction or death – during the Famine," according to Mr Jones.