Khirsara (Inde): A prominent mature Harappan site
Khirsara (Inde): A prominent mature Harappan site
After three years of extensive excavation by the Archaeological Survey of India (ASI), Khirsara has emerged as the prominent mature Harappan site in western Kutch, showing how advance the trade from this part of Gujarat used to be around 4,600 years ago.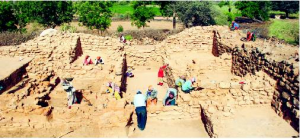 "Khirsara has emerged as one of the most prominent mature Harappan settlements in Western Kutch. Earlier, Dholavira and Junikuren had emerged as prominent Harappan sites in Kutch, "ASI's Superintendent Archaeologist, Vadodara, Dr Jitendra Nath said.
"The evidences found over last 3 years of excavation there show how advance trade used to be from this part of Gujarat around 4,600 years ago," he said.
Khirsara lies about 85 km Northwest of Bhuj on the Bhuj-Narayan Sarover State Highway. The site is locally known as 'Gadhwali Wadi' and is located on the south-eastern outskirts of the present village overlooking river Khari.
"The prime reason for Harappans to settle at Khirsara was perhaps the availability and easy accessibility to raw materials and minerals in the vicinity," Nath said.
"Khirsara produced a variety of objects for export such as various types of beads of semiprecious stones, steatite and gold, shell bangles, inlays etc," he said.
Discovery of a large number of drill bits and shells indicates that these items were meant for export, the officer said.
During excavation, we have discovered a unique warehouse, a factory site, a citadel, seals, antiquities from the Indus Valley settlement at Khirsara, which is fortified and measures roughly about 310 x 230 metres, Nath said.
The super structure of warehouse seems to have been made of perishable items like wood or wattle and daub. The space in between the parallel walls might have served as a duct for circulation of fresh air to protect the stored material, he said.
The Harappan civilisation is sometimes called the Mature Harappan culture to distinguish it from earlier and later cultures existed in the same area of the Harappan Civilisation.
Khirsara's close proximity with river Khari might certainly have supported the maritime trading activities of its inhabitants, Nath said.
The citadel, a fortress overlooking a city or perhaps protecting a town, shows fortification and re-fortification which scholars reason that elite clan might have lived there. The rooms found there show finer structure, he said.
The factory site discovered during excavation had several products showing that it was utilised for manufacturing activity.
The presence of big furnaces, tandoor, storage jars, small water tanks and discovery of a hoard of gold beads, semi-precious and steatite beads, copper implements, seals, weights, shell objects and debitage indicate that this area (factory site) was once utilised for manufacturing activity, he said.
"Amongst prominent antiquities we have found 25-26 pieces of disk type gold beads from the factory site there. The gold beads are of disk type, globular and tubular," Nath said.
A variety of seals which include square, rectangular and bar types made of steatite, soap stone and sand stone have been discovered at Khirsara.
The bar type seals bear Harappan character only whereas the two rectangular seals represent figurines of unicorn and bison on the obverse,Nath said.
The analysis of botanical remains done by the Birbal Sahni Institute ofPalaeobotany, Lucknow reveals that the carbon dates for samples collected from the site fall in the range of 2600-2200 BC approximately, which is roughly 4,600 years old, Nath said.
Khirsara was first reported by the Department of Archaeology, Gujaratgovernment in 1969-70. The site was revisited by a team of Excavation Branch of ASI Vadodara in July 2009 for a survey during which they observed a variety of Harappa artefacts and carried out further digging.