Kattupalli (Inde): Ancient idols unearthed
Kattupalli (Inde): Ancient idols unearthed
D. Madhavan
Source - http://www.thehindu.com/news/cities/chennai/ancient-idols-unearthed/article4369814.ece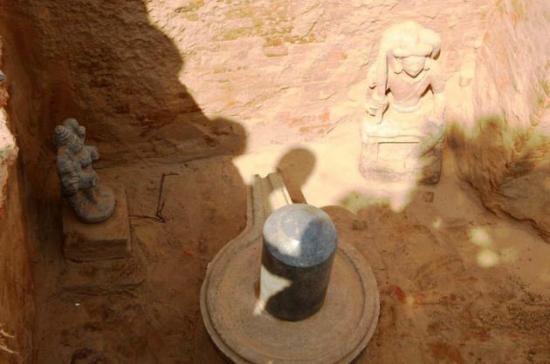 The Hindu   - A Shiva lingam and idols of Parvathy and Chandikeswarar were found within a brick structure — Photos: Special Arrangement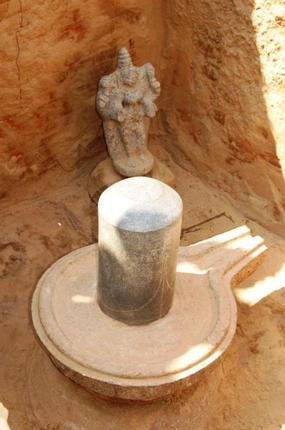 The Hindu  - A Shiva lingam and idols of Parvathy and Chandikeswarar were found within a brick structure at a construction site — Photo: Special Arrangement
Workers at construction site 40 km north of Chennai come across rare, 8th century artefacts; archaeologists say this is the first Pallavan-era finding within city limits in recent times
Little did the villagers in Kattupalli near Minjur, some 40 km north of Chennai, realise that digging a pit to earn Rs. 180 a day would lead to an important archaeological discovery and the unearthing of a 1,200-year-old Pallava period structure — the first such finding within city limits in recent times.
On Thursday evening when the labourers were hard at work on a construction site, their crowbars hit stone. After carefully displacing the earth around it, they found a small, open brick structure, within which was a granite Shiva lingam and idols of goddess Parvathy and Chandikeswarar, Lord Shiva's attendant.
State department archaeologists, who arrived at the site, said the idols were found at a depth of eight feet. They added that the idols were possibly part of an ancient temple, built during the late Pallava era in 8th century CE.
Up until now, only Chola-era structures have been found in and around the city, in places such as Thirupalivanam, Minjur and Pulicat. "These findings are unique because the Chandikeswarar idol and the brick structure it was found in both belong to the Pallava era. The idols are intact and highly decorative," said former deputy director of the State archaeology department, K. Sridharan.
Archaeologists said the idols' unique features included the floral decorations beneath the Shiva lingam and the stylistic features of the Chandikeswarar idol. They noted that the Shiva lingam and the Parvarthy idol were around 400 years old, sculpted during the Vijayanagar period. They also pointed out that the Chandikeswarar idol had typical Pallava-period features such as the palm leaf-shaped head gear and large earrings.
"The size of the brick used in the structure will help determine the exact period the structure belongs to, as large bricks will indicate it belongs to the Pallava period. In the Sanagma and Chola era, regular-sized bricks were used," said a senior archaeologist.
The workers were digging on an open plot of land, in order to lay a concrete foundation, when their tools struck the Shiva lingam. They informed panchayat and revenue officials of Ponneri taluk, as well as the police. As of now, the idols have been left at the site with security personnel to guard them until further orders from the district collectorate.
"The findings and the area will be handed over to a special team from the archaeology department once we get a communication from the collectorate," said Ponneri tahsildar, Jagir Saleem.