Kataliondas Kourvellos (Chypre) : Completion of the excavations
Kataliondas Kourvellos (Chypre) : Completion of the excavations
Completion of the excavations at Kataliondas Kourvellos
Source :
http://www.moi.gov.cy/moi/pio/pio.nsf/All/6A9C2C3342E7D959C225793D0029B2EA?OpenDocument


The Ministry of Communications and Works, Department of Antiquities, announces the completion of the second and last season of excavations of the University of Geneva at the site of Kataliondas Kourvellos, under the direction of Dr Julien Beck.

This year's investigations focussed once more on the slopes at the base of the bedrock knob, where trenches A to F were opened in 2010. To the southwest, trenches C and D were expanded to form the southwest sector. The remains of the stone structure, found in 2010, were investigated revealing a more than three-meter long retaining wall. Closer to the bedrock knob, many rock-cut structures were unearthed, including steps, circular pits, and partition walls, some preserved up to 50 cm high. Regular, Cypro-Classical stonewalls were discovered as well, perpendicular to the aforementioned rock-cut partition walls.

To the northwest, trench E was expanded to create the northwest sector. The Cypro-Classical rock-cut walls and floor found in 2010 belonged to a rectangular, semi-subterranean chamber, which was linked to the east to a second such chamber by a sloping, rock-cut passageway, 60 cm wide. A third semi-subterranean chamber to the south comprised a circular structure, made of small stones and built directly on the chamber's stone floor. Other rock-cut, smaller structures include a circular niche, postholes, and a series of rectangular cavities in one of the bedrock partition walls between chambers.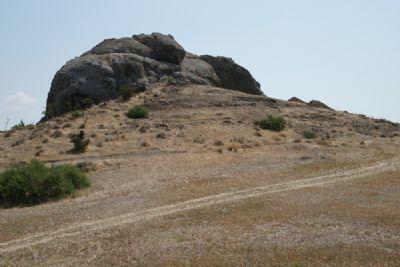 Two new trenches were sunk as well. In trench G, to the northeast, remains of yet another Cypro-Classical wall were found, built directly on the bedrock, and also a rather high proportion of Neolithic finds. In trench H, slightly further away from the bedrock knob, a layer of yellowish earth was uncovered under the topsoil, devoid of archaeological finds, and lying directly on the bedrock.

As in 2010, in every sector or trench Neolithic remains were retrieved, mixed with finds from the Cypro-Classical period, including, once again, elements of bronze and iron weaponry. Preliminary study of the finds revealed that during the Neolithic period the site was occupied in the 8th millennium cal BCE, and thus did not belong to the later Choirokoitian phase, as was previously thought. In the Cypro-Classical period, finds mainly include 4th century BCE local coarse and plain ware, as well as a few Greek imports. Further analysis should also help determine the site's function for each period.