Ancient hero stone with inscriptions unearthed
Source - http://www.thehindu.com/news/cities/Tiruchirapalli/article3360060.ece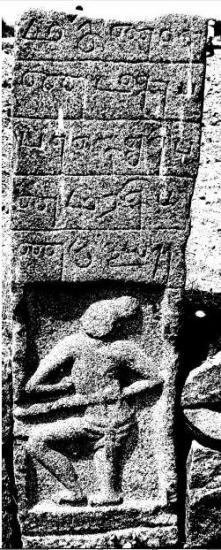 The hero stone that was unearthed at Karattampatti near Thuraiyur. Photo: Special Arrangement
Belongs to 31 regnal year of Paranthaga Chola-I (AD 938)
An ancient hero stone with inscriptions has been unearthed at Karattampatti near Thuraiyur, about 35 km from here.
The hero stone was discovered from a field at a village during a field study taken up by a research team led by Subash Chandira Bose, advisor for the archaeological wing of the Centre for Cultural Studies, Coimbatore, following a tip-off given by Durairaj, a local resident.
Mr.Bose, in a press release, said the bas-relief hero stone measuring 30 centimetres in width and 92 centimetres in height has been carved within a rectangular vertical frame with excellent craftsmanship. It depicts a warrior holding a sword in his left arm.
The inscription belongs to the 31 regnal year of Paranthaga Chola-I (AD 938), also known as Madurai Kondan, he said.
The inscription on the stone says that the people of Viriyur had donated a non-taxable land to the daughter of hero known as Nagan who sacrificed his life to bring back a herd cows taken away by a group.
The inscription also refers to a few names of places such as Miamaa Nadu, Valluvappadi, Viriyur, Oottrathur Nadu, Paadaavur and Ainjurinimangal.
The field study was carried out by a research team comprising Iravindran, Ramkumar, Balakrishnan, Stapathi Palanisamy, with the help of Devaraj and Palaniyandi and a few school students, the release said.