Kaharol (Bangladesh) : 800-year old temple with distinct Kalinga architecture
Kaharol (Bangladesh) : 800-year old temple with distinct Kalinga architecture
Hazel Sunaina
Source - http://www.indialivetoday.com/archaeologists-find-800-year-old-temple-in-bangladeshs-kaharol-with-unique-architecture/27629.html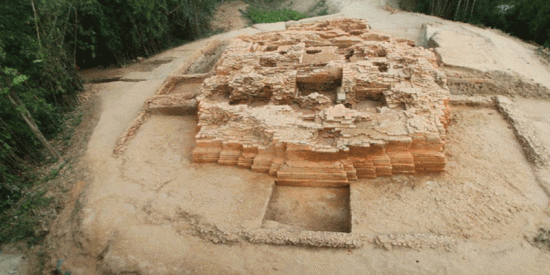 An almost 800-year-old temple has been dug out by a team of Archaeologists in Kaharol which displays unique architecture along with a distinctive idol of Mohini, the avatar of Hindu deity Vishnu.
According to the Dhaka Tribune, the find of the temple and the idol may change predominant ideas about the region's history and traditions.
A Jahangirnagar University archaeology team began the survey in Madhabgaon of Dabor Union in April this year and found the temple.
A full-scale excavation funded by the Cultural Affairs Ministry and the University Grants Commission has been going on for the last three months.
The team stated that this is the only such temple in Bangladesh, with characteristic of Kalinga architecture of the 11th and 12th century eastern India.
The excavators also found a Shankha, a Sudarshana Chakra, a mace and a part of the idol's foot adorned in garland.
Excavation team chief JU Assistant Professor Dr Shadhin Sen said the temple is divided into two parts, adding that "This is the first Navarath temple in Bangladesh. Earlier a Pancharath [five-faceted] temple was found in Dinajpur's Nababganj,"
The team had spoken to Indian archaeologist Dipak Ranjan Das who had remarked that the upper portion of the temple was similar to the Siddheswara Shiva temple in Bankura, West Bengal.
Das claimed that Claudine Bautze-Picron, an expert of East Indian iconography, has identified the idol recovered from the eastern part of the temple as that of Mohini, the VishnuAvatar.
"According to her this is the first stone-made Mohini idol in the eastern subcontinent, which leads us to reconsider the history of this region."
In Hindu mythology, Mohini is the only female Avatar of the god Vishnu, who appears in the Samudra Manthan myth. The goddess is worshiped widely in South and West India.
Even though the team is planning to cover the temple with soil for its preservation, as it is a standard practice for archaeological preservation, the locals are demanding that the temple be open to the public for worship.
The nine facets on each side of the temple make it a unique architecture in Bangladesh DHAKA TRIBUNE/BIPUL SARKER SUNNY
The temple's architecture contains a feature called Navarath, sets of nine facets on all four sides. In fact this temple contains two additional sub-facets, or Uparath, behind each outermost facet DHAKA TRIBUNE/BIPUL SARKER SUNNY