AFP
Source - http://phys.org/news/2012-10-jerusalem-olive-trees-linked-christ.html#jCp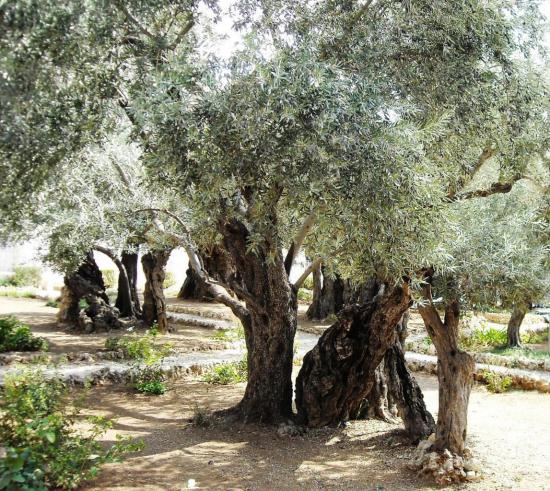 Olive trees in the Garden of Gethsemane come from cuttings of a tree dating back to when Jesus is believed to have prayed on the hill in Jerusalem before his death, scientists said on Friday.
The study of one of the holiest places for Christians was commissioned by Custodia Terrae Sanctae, a group of Franciscan missionaries who maintain and study ancient monuments in the Holy Land associated with Jesus Christ.
The study on eight olive trees in the garden began in 2009 and has involved several Italian researchers and professors including Giovanni Gianfrate, an expert on the history of olive trees in the Mediterranean region.
The research found that three of the eight trees dated back to the middle of the 12th century and that parts of their roots were even older.
The garden was reorganised by Crusaders between 1150 and 1170.
The analysis found that all eight trees had "similar genetic profiles" which researchers said meant that they were all related to a single tree.
Cuttings from that more ancient tree were planted in the 12th century, the scientists said at a press conference in the Vatican.
Franciscan monk Pierbattista Pizzaballa, who is known as the "custos" of the Holy Land, said the olive trees were "testament to a deeply rooted faith".