Study into Jersey Neanderthal mammoth hunters
Source - http://www.bbc.co.uk/news/world-europe-jersey-16726900
250,000 years ago it was possible to walk between Jersey and what is now St Malo in France
Archaeologists are investigating the truth behind the story that Ice Age Neanderthals in Jersey would push mammoths off cliffs in St Brelade for food.
About 30 years ago, evidence suggested early residents of what is today the island of Jersey chased the giant mammals off the cliffs at La Cotte above Ouaisne.
Dr Geoff Smith, an analyst for Jersey Archive, said: "It was in the 70s and 80s that the hypothesis was put forward that Neanderthals were grouping together to drive herds of woolly mammoth and woolly rhinos off the cliffs and butchering them."
He is now using new technology to look at whether that theory is correct or not.
Dr Smith said: "No-one has ever really questioned it so we are going back, re-assessing and re-analysing and see if we can come up with new information to come up with more support or even refute it slightly.
"We don't know, we are never going to completely understand, but we just want to see if we can get more data and understand Neanderthals even better."
In a cave at La Cotte in Ouaisne Bay archaeologists have, over the years, found tools and the fossilised bones and teeth of woolly mammoth, woolly rhinoceros, cave bear and reindeer.
These remains date from a time when the view from Ouaisne was not sea, but a huge treeless land stretching all the way to what is now St Malo.
Groups of nomadic people would move northwards in the spring, following the animals to their summer pastures in the place where England is today.
On the cliffs at Ouaisne, it was thought these nomadic people would hunt for food by sneaking up on grazing animals and making them stampede over the edge.
A mammoth would have been about the size of an African elephant, weighing up to 6,000kg.
Head of community learning for Jersey Heritage, Doug Ford, said: "If you are faced with a 6ft hairy mammoth and you are armed with a sharp stick, you have to have a bit of an edge."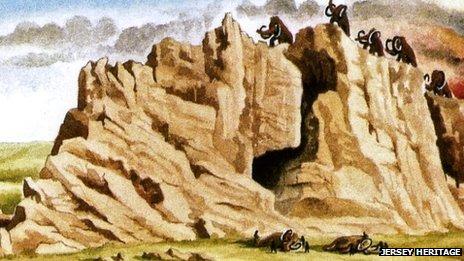 It is thought Neanderthals would drive mammoths off the edge of cliffs in St Brelade, Jersey
Dr Smith is working with his team in Jersey recording elements of the fossilised remains of mammoths and rhinos to discover whether the current stampede theory is correct.
He told BBC News: "Once I have recorded those, I take very clear high definition digital photographs to get close up shots of interesting pathology to see what health they were in.
"I record the ages of the animals to see if they resemble natural deaths or whether it is indicative of human hunting or other carnivore."
Dr Smith said there was no way of knowing whether, without excessive hunting, mammoths could have survived to the present day.
"Was the climate change so severe it forced them into a refuge somewhere from which they became such a small population they couldn't survive? We still don't know, new theories are coming out every day," he said.