Ryan Morrison
Source - http://www.bbc.com/news/world-europe-jersey-30088365?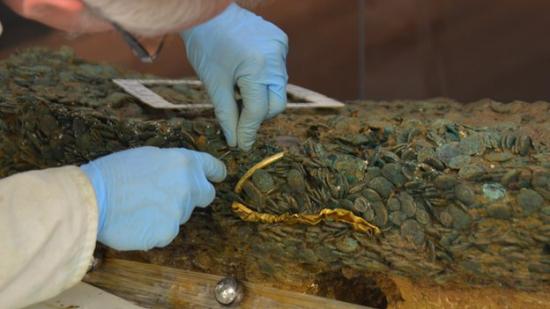 The gold necklace was revealed as coins around it were removed
A gold necklace has been discovered by experts examining the world's largest hoard of Celtic coins.
Senior conservator Neil Mahrer is working on Le Catillon II hoard and said they had already cleared nearly 4,000 of about 70,000 coins.
The gold torque was partially exposed as researchers began to remove coins from around it.
The coins were discovered by two amateur metal detector enthusiasts, Reg Mead and Richard Miles, in 2012.
The team, including two Jersey-born archaeology graduates, have already discovered a gold coin believed to date from 70BC and derived from the Baiocasses, a tribe from Normandy who minted base gold and silver coins.
Neil Mahrer said the volume of coins in the hoard created a "new normal" as they had more than any previously discovered
The team take a very accurate measure of the location of each item in the hoard
The gold necklace, known as a "torque" was partially exposed as coins were removed and Mr Mahrer said it was surprising to find a complete piece, rather than fragments.
Julia Farley, curator of European Iron Age collections at the British Museum, said men and women in mainland Europe would be buried wearing them.
She said: "They are rare, particularly gold ones, but the number from Britain is fairly small, under 50 or so.
"On the continent you find them in graves, but we don't really find that in Britain. They have been found in hoards as chopped up bits, but they are unusual."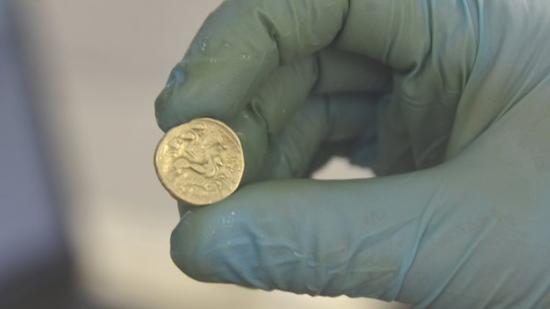 There are thought to be about 70,000 coins of varying shape and value within the hoard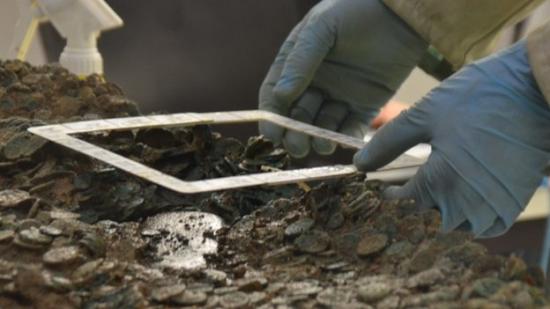 Neil Mahrer said they had no idea how many other items of jewellery they would find or whether there were big stones inside
She said most of the British gold objects found from the time of the Jersey hoard were actually made from recycled continental gold.
Ms Farley said it would be shipped to the UK with coins and other metals chopped up and then turned into local objects.
Mr Mahrer said the gold torque in the Jersey hoard could turn out to be a significant find, as it could help uncover more details of the wealth of the tribe and where they came from.