James Bay (Canada): Artifacts could be 7,000 years old
James Bay (Canada): Artifacts could be 7,000 years old
Archaeologists start dig after finding rare arrowheads on Waskaganish territory
Source http://www.cbc.ca/news/canada/montreal/artifacts-in-northern-quebec-could-be-7-000-years-old-1.1306784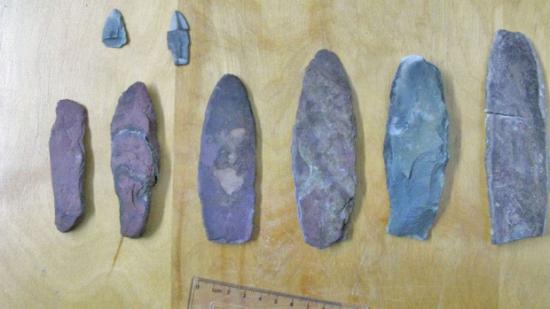 Archaeologists believe the stone relics were made using a grinding technique, different than later techniques of chipping. (Waskaganish Cultural Institute/Facebook)
A Quebec archaeological team will begin its work at an extraordinary site this week, as it explores a settlement that could be as old as the invention of the wheel.
The Saunders Goose Pond discovery, which could date back 7,000 years, was found last summer on Waskaganish territory in northern Quebec.
The James Bay community, located near Fort Rupert, is known as the birthplace of the Hudson's Bay Company and has historical significance for the local Cree as a traditional fishing site.
When archaeological crews were digging near the Smokey Hill rapids last summer, they expected to find relics and pottery dating back about 150 years.
So it came as a surprise when one discovery was linked to pre-European times.
The rough-looking stone blades and arrowheads were found by a local community member, who brought them to the Waskaganish Cultural Institute.
"It was very obviously quite different and quite old," says James Chism, the curator of archaeology at the institute.
He says the tools could be between 4,000 and 7,000 years old.
"It's pretty exciting, because we don't have a lot of sites in Quebec that are that old, if it's as much as 7,000 years," Chism says.
"It's a time period that we know almost nothing about."
Searching for answers
Last summer, the team did a survey of the site and marked locations of interest.
But Monday afternoon will be the first time archaeologists will dig at the Saunders Goose Pond site.
Chism says the area where the relics were found was likely once a peninsula or island, even though the site is now about 63 metres above sea level.
The Cree community of Waskaganish is located along James Bay in northern Quebec. (Google Maps)
It's possible the territory was a campsite, but archaeologists won't know for sure until the team gets a better look at the settlement.
Chism hopes they will be able to narrow down the timeline this summer through geological surveys and tests on any organic materials they might find, such as charcoal or bone.
He says the dig could reveal important information about how people lived in Canada at that time — who they were, and what they hunted and ate.