James Bay (Canada): Archeological mystery on the shore
James Bay (Canada): Archeological mystery on the shore
Archeologists, technicians, and volunteers will dig in northern Quebec this week in hopes of confirming the age of artifacts believed to be up to 7,000 years old
Kamila Hinkson
Source - http://www.thestar.com/news/canada/2013/08/26/archeological_mystery_on_the_shore_of_james_bay.html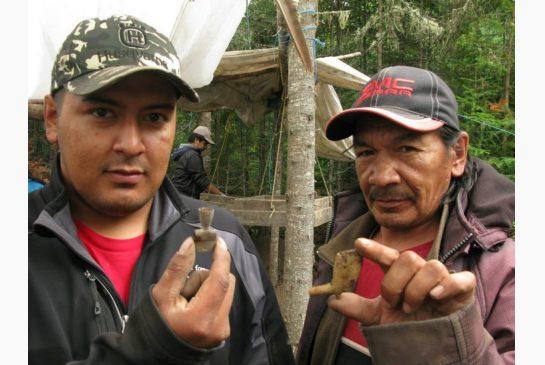 Jordan Katapatuk and Bertie Small, archeological technicians, hold up a carved-stone smoking pipe and an unbroken clay pipe found at a site about 10 km from where a broken arrowhead and other items were found by a resident of the Waskaganish First Nation last summer. JAMES CHISM / FACEBOOK
Archeologists will return to the shore of James Bay in northern Quebec this week to confirm the age of artifacts left behind by aboriginal hunting groups thousands of years ago.
A broken arrowhead and other items, found by a resident of the Waskaganish First Nation last summer, could be between 3,000 to 7,000 years old, said James Chism, curator of archeology at the Waskaganish Cultural Institute.
The artifacts are not on par with the oldest archeological finds in Quebec, but they are the oldest items found in the region, he said.
The objects were likely used as blades for knives or spears, parts of an axe, and tools to scrape animal hides. They are in various states of completion, with some still needing refining and others seemingly broken, Chism explained.artifacts
All the artifacts were found on the ground, prompting speculation there may be more items lying below the surface at the site, about 30 km east of the village. The hope is that a dig will produce charred bones, pieces of charcoal, more tools, or other items that can be tested in order to date the artifacts, he said.
In the best-case scenario, they may unearth a tent post that would help determine what kinds of tents people lived in, or bones of sea mammals they hunted that would show they exploited the area's resources.
"We just have to wait and see. We're got to be lucky," he said.
The village, a Cree community on the southeastern shore of James Bay, about 585 kilometres north of Val d'Or, Que., was the site of one of the Hudson Bay Company's first forts.
Nearby, at a dig site close to the Smokey Hill Rapids, 40,000 fragments of fish bone were found in one-square-metre of space, and there's likely to be more bone and artifacts the deeper they go, Chism said.
"There has not really been time to explore some of those high ridges," he explained, referring to the highlands in the area.
The area around the village is vast, and many places haven't been explored yet, he said, adding any Cree youth interested in archeology would have years of fertile ground and productive work ahead of them.
Two archeologists, including Chism, five archeological technicians, and some local residents will be on hand to sift through the dirt. The team will work, rain or shine, Monday to Saturday for two weeks.
If they find something that can be dated, Chism estimated they could have test results, and a definitive age for the objects found at the site, by this winter.
The discovery raises questions about how people moved around the region at a time when it was still covered by glaciers, and when those people appeared in the area. Geological studies are expected to shed light on whether the area was formerly an island, a series of islands or a peninsula.