Itoshima (Japon): New evidence of written diplomacy in ancient Japan
Itoshima (Japon): New evidence of written diplomacy in ancient Japan
Shunsuke Nakamura
Source http://ajw.asahi.com/article/behind_news/social_affairs/AJ201603160021?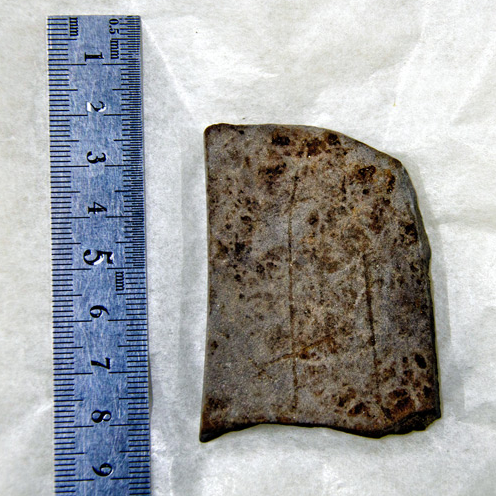 The piece of inkstone dating to the late Yayoi Pottery Culture (300 B.C.-A.D. 300) period that was unearthed in Itoshima, Fukuoka Prefecture. The photo shows the front of the inkstone. (Provided by the Itoshima city education board)
A piece of inkstone, one of the oldest found in Japan to date, is evidence of ancient Japanese promoting ties overseas through written exchanges, researchers say.
Their hypothesis is based on a "suzuri" fragment unearthed at an archaeological site here dating from the first to second century, or late Yayoi Pottery Culture period.
The piece of inkstone was found in the Mikumo Iwara ruins in Itoshima, the city's education board said March 1.
The site is believed to have been the capital of Ito Koku, which was subordinate to the Yamatai state and depicted in China's "Gishiwajinden" (Record of Wa in the history of Wei).
The discovery suggests that the people of Wa (ancient Japan) communicated with foreign powers through writing.
The stone artifact is 6.0 centimeters long, 4.3 cm wide and 6 millimeters thick. Its thinness and rough surface are characteristics of flat inkstones made during China's Han dynasty (202 B.C.-A.D. 220).
Intact, the inkstone probably measured between 10 cm and 17 cm long and was rectangular.
It was discovered in an area where many shards of Yayoi pottery, as well as Rakuro-type earthenware made on the Korean Peninsula, have been unearthed.
The inkstone is the second such item found in Japan dating to the Yayoi Pottery Culture (300 B.C.-A.D. 300). The other one was found in the Tawayama ruins in Matsue, Shimane Prefecture.
The archaeological site, within easy sailing distance to China and the Korean Peninsula, used to host facilities to promote diplomacy between the Japanese archipelago and foreign powers.
According to "Gishiwajinden," government officials reportedly sent by Himiko, queen of the Yamatai state, as well as envoys from overseas, were engaged in checking documents and other tasks in Ito Koku in ancient times.
The Itoshima city education board said it believes the new find corroborates the contents of "Gishiwajinden" and proves the region handled diplomatic documents at the time, such as writing letters of thanks for gifts from overseas.
The Asahi Shimbun