Ingapu (Burma): Religious site could hail from ancient Pyu kingdom
Ingapu (Burma): Religious site could hail from ancient Pyu kingdom
DVB
Source - http://www.dvb.no/dvb-video/religious-site-could-hail-from-ancient-pyu-kingdom/41551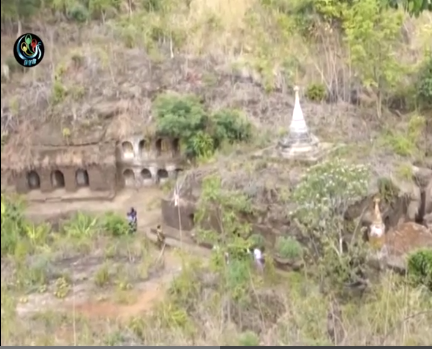 Archaeologists are planning to excavate ancient ruins in Irrawaddy Division that could be as much as 2,000 years old.
The ruins in Ingapu Township are believed to be the remnants of an ancient city-state that hails from the Pyu era. Archaeologists are keen to prove if it is indeed a link to the ancient Pyu kingdom.
"We heard the Department of Archaeology is planning to excavate the site when they have the budget. And we are preparing more field trips to investigate the area," said archaeologist, Bhone Tint Kyaw.
The site is around eight square miles and contains Buddhist temples, statues and an old city wall built in the Pyu style.
"The area around the ancient site is regarded as both a religious and a cultural heritage site," said Abbot Pyinarsiri from Kyatpyin Religious Zone, an area owned by the clergy that encompasses the site. "Since it contains religious buildings, we regard it as a religious site, while the government sees it as a cultural heritage site."
The city states of Pyu existed from around the 2nd Century BC to the mid-11th Century, and stretched from Sri Kestra, near modern-day Pyay, up through central Burma as far north as Tagaung, which is about 200km north of Mandalay.
The Tibeto-Burman speaking Pyu people migrated from modern-day Yunnan into Burma and are the county's earliest recorded inhabitants.
The walled cities built along the Irrawaddy and Chindwin rivers were part of an ancient overland trade route between China and India.
Ruins from these ancient cities are dotted all over central Burma and efforts are underway to preserve them as cultural heritage sites.
"There are a lot of ancient sites believed to be Pyu cities that continue to be discovered across the country," said Nu Mra Zan, a special advisor to the Department of Archaeology, National Museum, and the Ministry of Culture.
"Some may be as far south as the Irrawaddy delta, others in central Burma and Shan State. Their protection must be prioritised."
Twelve Pyu walled cities have been excavated in Burma so far. If the site in Ingapu is found to be from the Pyu era, then it could be one of the most ancient recorded settlements in the country.