Indian Creek (Antigua): Early Caribbeans were not 'savage cannibals', as colonists wrote
Indian Creek (Antigua): Early Caribbeans were not 'savage cannibals', as colonists wrote
Researchers in Antigua hope to correct 'speculative and erroneous' colonial accounts that depict the Carib people as ferocious man-eaters
Source - https://www.theguardian.com/world/2018/apr/24/archeology-caribbean-carib-people-cannibalism-colonial-history-wrong
A 19th century engraving depicts Spanish exploration in the West Indies. 'It's up to us to tell their story,' researchers say of the Caribs. Photograph: Granger/Rex/Shutterstock
For centuries, historians held that the Caribbean's earliest inhabitants were peaceful farmers who were wiped out by the ferocious man-eating Carib people. But archaeologists in Antigua say new evidence from one of the most important sites in the region is helping to correct "speculative and erroneous" accounts passed down from early colonists.
The excavation at a 12-acre site in Indian Creek has prompted a reassessment of older narratives, said Dr Reg Murphy, who is leading a team from Syracuse University, Farmingdale State College and Brooklyn College.
Colonial-era historians said that the Arawak people were exterminated in about 1300 AD by the Caribs, who were demonised as man-eaters – and then themselves displaced – by the first European settlers .
"We hope to reevaluate those long-held assumptions," said Murphy. "From analysing their diet we have found no evidence that Caribs ever ate humans."
The site is one of few known to have supported every age of mankind from the Arawaks to the present day.
"We think Amerindians migrated up the smaller islands like Antigua, then separated out when they reached bigger islands like Puerto Rico," he said. "But was there one culture or a multitude of cultures? That's one of the questions we hope to answer."
The area closest to the rugged road linking Indian Creek to the tourist hub of English Harbour reveals scattered fragments of Wedgwood and Delftware china from 18th-century colonists. Further into the thorny thickets, these are replaced by much older remains of clay serving bowls and flint tools.
A 19th century wood engraving. Photograph: Granger/Rex/Shutterstock
"You can often tell the function by looking at the form," Murphy said, picking up a blue-coloured scrap. "This has a folded rim, indicating the period from around 200BC to 600AD, and this might have been a griddle for making cassava bread."
The former cotton fields of Indian Creek were first excavated by a team from Yale University in the 1960s, but since then, technology has evolved greatly to include methods like aerial imaging, electronic surveying and electron microscopes.
"The Yale study looked at pottery and charcoal to determine the era and the migration sequence only," Murphy said. "Ours is much more intensive: we are scrutinising tiny bones, pollen and microflakes. We're interested in food remains, the people themselves, their craftsmanship, their health."
Once so ruinous for colonial-era sugar cultivation, the site's barren, infertile environment has become archaeologists' boon.
"The land was so hostile it wasn't used for sugar for long. They never used any big ploughs, so it's still largely intact," said Murphy.
A lingering mystery is why – despite the harsh terrain – traditionally migratory Amerindians stayed living at the site for almost 2,000 years.
"The site is a long way from the waterfront and the marine resources on which they were completely dependent," said Murphy. "We don't know what was so special about here, or how they could have survived in this scrubby area."
Still, much can be gleaned about their day-to-day existence by scrutinising microscopic scratches on excavated tools. Residues of foods such as fish and corn have also contributed valuable information about Amerindians' diet.
It is the Caribs who are of particular interest to Murphy's assistant Carlyn Valmond, who is of Carib – or "Kalinago" – descent herself.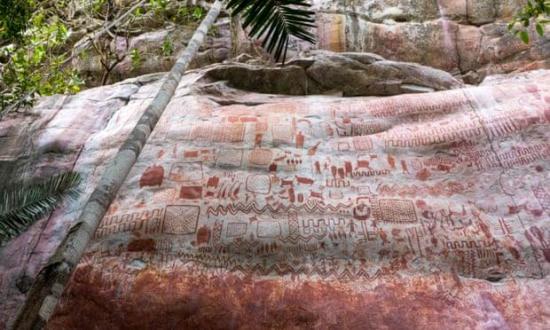 Researchers show some of the items excavated. Photograph: Gemma Handy
"I started studying the Caribs because I couldn't believe the history I was reading," she said. "We have learned that far from being cannibals, they largely lived on shell animals and fish."
The image of the Caribs as savage cannibals is entirely based on colonial accounts, said Murphy. "We know nothing about them except what the Europeans told us – and they had their own agenda," he said.
"We, as descendants of slavery, have only been in Antigua since the 1630s, but there were people here for thousands of years before us – people who have no voice. It's up to us to tell their story."