Hunterston Sands (G-B):Medieval oak timbers and hexagonal harbour discovered
Hunterston Sands (G-B):Medieval oak timbers and hexagonal harbour discovered
Source - http://www.pasthorizonspr.com/index.php/archives/10/2014/103866?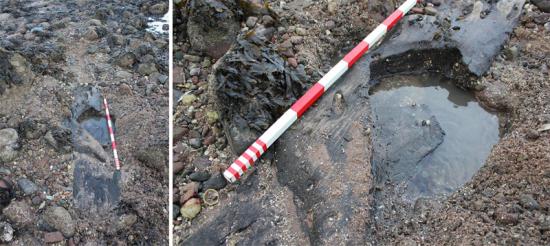 Large medieval oak timbers discovered at HUnterston Sands in North Ayrshire. Image: COALIE survey project
group of large oak timbers probably from a substantial, dismantled timber tower has been discovered buried in the coastal sand flats at Hunterston Sands, North Ayrshire (west Scotland). Initial tree ring (dendrochronological) dating suggests at least one of the timbers is around 800 years old, making this a very unusual find.
The site was discovered during the COALIE survey project; a collaborative research project between archaeologists from Wessex Archaeology Coastal & Marine, RCAHMS and members of the local community who have detailed knowledge of the areas coast.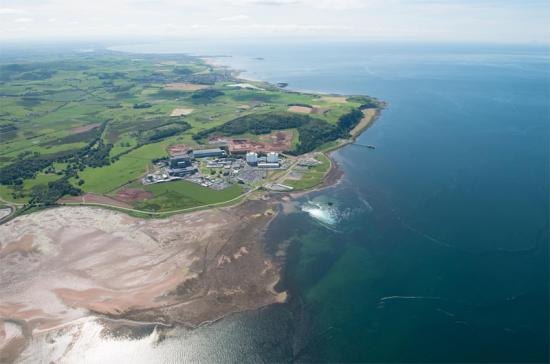 Aerial image of Hunterston Sands in North Ayrshire. Image: COALIE survey project
The timbers offer the potential to reveal much about the nature of the building they were part of, about the woodland they were cut from and about historic carpentry of a lost age. The strategic coastal position on the outer Firth of Clyde, during the reign of Alexander II in the early 13th century AD, located on the estate of one of Scotland's oldest families adds to the mystery and potential importance of the remains.
Boulder banks
The COALIE project team has been working at the site near the power station since the destructive winter storms of early 2014 and has made some remarkable discoveries. Although it has long been known that there were archaeological sites here, they were not well-understood.
A detailed GPS and field-walking survey was conducted last year, revealing that the long series of boulder banks criss-crossing Hunterston Sands are not fish traps as previously thought, but may instead be part of substantial land reclamation schemes during the last few hundred years linked to the Hunterston Estate. Clearly visible from the air, the boulder banks cover an area of at least 500m2 and archaeologists believe they previously marked the edge of the coast, when the vegetated saltmarsh on Hunterston Sands was much more extensive.
Oak timbers in excellent condition
The wet coastal environment has preserved the timbers in excellent condition despite some evidence of attack by marine boring organisms and surface weathering. Each massive timber is a naturally-grown oak which has been halved lengthways with a complex series of angled joints and carpentry worked into the end of the timbers. They are all at least 2m long and around 0.5m wide; the close similarity of the carpentry suggests they are from the same original structure, later dismantled or reused.
Hexagonal harbour
In addition, a large, mysterious hexagonal, stone-built harbour on the very tip of Brigurd Point, was surveyed and dived on during a very low-tide. The harbour is around 60m wide and could have accommodated a number of boats but bizarrely only at low-tide. No diagnostic features were found within the structure to provide clues on the age or specific function of the harbour; it is believed to pre-date available historic documents so may be at least of medieval age.
Dr Andy Bicket, Senior Archaeologist and Geoarchaeologist for Wessex Archaeology, Coastal & Marine said: "This represents an incredibly rare and exciting find.
"The Firth of Clyde has long been an important maritime route from early prehistory to the present day and we have rare and fascinating pieces of the historic seascape preserved in Hunterston Sands.
"The early 13th century was a key period for defining Scotland and the west coast seaways were instrumental in the strategies of the various factions vying for control. The structures on Hunterston Sands also highlight that managing coastal change has long been an important issue for people".
Tree ring data
Dr Coralie Mills, of Dendrochronicle, dendrochronologist to the project said "The discovery of a worked oak timber dating to AD1217/1218, or soon after, is a very rare and important result for Scottish dendrochronology and Scottish archaeology.
"There are very few extant 13th Century timber structures in Scotland and these timbers could tell us much about the nature of that building, about the woodland they were cut from, and about historic carpentry of a lost age.
"They come from a slow-grown oak over at least 220 years old when felled, and so started life around the year AD 1000.
"This fits into a wider pattern of long-lived native medieval oak timber originating about this time in Scotland, with a preceding gap in the Scottish native oak tree-ring record. Only one sample from Hunterston has so far been analysed dendrochronologically; additional samples from the other similar timbers would assist in confirming the date obtained, and would provide rare additional tree-ring data for this region and period. Some of the smaller oak posts in the foreshore structure, not yet sampled, appear to be fresh timber cut for the purpose, and could date, to the year, its construction.
"Such a precise date is only possibly through tree-ring dating and could help to pinpoint information about the foreshore structures in the considerable untapped papers of the Hunter family and other local archival material. Ultimately a well-dated history of the local cultural landscape and seascape could emerge."
Dr Alex Hale, Archaeological Project Manager for RCAHMS said "The COALIE project is a great example of multiple collaborators working together, in a harsh environment and delivering unexpected results.
"By bringing together archaeologists, local experts with local knowledge and scientific researchers we have rediscovered archaeological sites, changed interpretations of known sites and begun to understand the history of Hunterston's intertidal archaeology".