Hungate (G-B) : Last days of the big dig
Hungate (G-B) : Last days of the big dig
Last days of the big Hungate dig
Matt Clark
Source http://www.yorkpress.co.uk/features/features/9375382.Last_days_of_the_big_Hungate_dig/
Work at Hungate dig will stop next month. Now it is time for the archaeologists to find answers to the questions they have unearthed. Water-filled craters stretch as far as the eye can see. For five years, this part of Hungate has looked more like the Somme than York, but before the next phase of development can be built, there is the small matter of digging the site for clues about the area's history.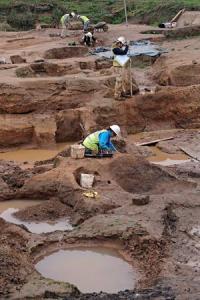 Final days at Hungate dig, where water-filled craters dominate the landscape
And that means holes, hundreds of them. Some are graves and others held piles to support Viking buildings. One is a Victorian well and three metres away, but separated by two millennia, is another which was a child's grave.
Megan Clement is working on it and she's just found something. Looking closely at the fragment of pottery in her right hand, Megan declares it to be Roman, probably third century AD, and that means she is the first person to see it in 1700 years. Megan is on secondment from Bradford University to work with York Archaeological Trust and help unearth a wealth of items from this little- understood area of the city. And it is an important dig, being three times the size of Coppergate.
Now, the ground work is almost done with thousands of finds having been made. But many ask more questions than give answers and project director Peter Connelly says his team's job is far from over. "Digging is about 50 per cent of the project," he says. "We've gathered the data, now we need to analyse it." Peter's biggest conundrum is a cluster of mounds built by the Vikings and experts from all over Europe have been equally baffled. He reckons the team has found something unique, but only time spent analysing the soil and artefacts from the mounds will yield clues to its purpose. "We've found at least three mounds, all with ovens and it's new to York. We know they are Viking but what it was, we just don't know yet."
The mounds hold no traces of iron making or any other industrial process and Peter's best theory to date is that food was smoked above them to help preserve it. But at the moment he remains flummoxed. The answer he believes must be hidden in the soil, but for now it will have to wait.
More Viking finds include basement warehouses which were used to keep food fresh. One was boarded with timber which, it turns out, came from an Anglo Saxon ship. Peter points to the earliest man-made feature discovered, a three-metre wide Roman ditch, probably from the first century AD.
The Foss borders this site on three sides and the ditch may have formed a fourth side to produce a fortified island base while the Legionary fort was being built. "It's quite exciting. We could still be proved wrong but that is our working theory. Now we'll be testing it against the date of the material that has come out of the ground." One thing is for sure, the Romans later used Hungate to bury their dead, as pottery finds prove. And with the land used as pasture, it was a perfect site.
Megan Clement discovers a piece of 3rd century Roman pottery.
But who was buried there? Not soldiers, Peter believes, their cemeteries were placed prominently along the main arterial roads, such as Driffield Terrace, where the gladiators were found. And some of the graves were for children. "Who they are and why they are here is still a big question and the pottery and jewellery coming out of the burials tells us there's about 150 years between the ditch and the cemetery."
A big question I had for Peter is how do his archaeologists know where to look? The answer is surprisingly straightforward; they look for changes in soil colour and texture. Peter runs his trowel along a faintly discernable line. As he does so, the colour on one side darkens and that means one thing; it's man made. "You can see the difference between the natural soil and the ground that has slumped into it. That side is geology, this is archaeology. We take out the archaeology and leave the geology behind."
It's not only Roman and Viking artefacts Peter's team have uncovered. They've dug up Neolithic flints, medieval rubbish pits full of animal bones and pottery, a cobbled road and a Victorian sewer that follows precisely the lines of a tenth century path.
Then there are the slums.
"A lot of crammed houses and work yards were here in the nineteenth century and Benjamin Seebohm Rowntree classified the area a slum. But that is a sticky label and very hard to remove. "However we've been able to look at the archaeology and we've discovered the buildings weren't as bad as the perception of them."
As well as splendid artefacts that have made Peter wonder if the people were really so poor. "We found Stoneware plates, and some very nice pottery together with evidence of education. This area was cleared as a slum in the 1930s; maybe it didn't have to be."
Nothing of great financial worth has been unearthed at Hungate, in fact Peter says they've only found one gold coin. But all the finds have a value in helping to piece together 2,000 years of social history. Not to mention the best collection of Roman jet found in York for a century. "We have found people buried with jet bracelets, rings and necklaces and it's the first assemblage found here under archaeological conditions, so it's really exciting."
One of the most interesting discoveries is a beautifully preserved 14th-century stone corbel. There is a reason. During the dissolution of the monasteries there was a great deal of masonry available and this beautifully carved piece of stone ended up being dumped – literally.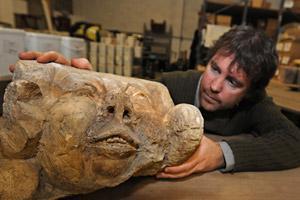 Peter Connelly with a 14th century corbel that his team discovered upside down as a foundation block
The team found it face down as part of a building's foundation. Was it deliberate, to hide a Catholic icon or did it make for an easier surface to build on? Archaeologists don't speculate, but the twinkle in Peter's eye tells which answer he would prefer. Whatever the reason, being buried in the ground for centuries has kept the corbel beautifully preserved.
The five-year-long excavation comes to an end on December 16 and over the course of the dig, more than 24,000 visitors have been on site, with volunteers helping out twice a week. "We've been able to remove all the archaeology within the space and gather huge amounts of information about how this part of the city has evolved over the past 2,000 years," says Peter "Now it's time to analyse what we have and find how everything relates to one another."
• The Hungate dig is paid for by Hungate (York) Regeneration Ltd and is being carried out as part of the regeneration of the Hungate area
Fascinating finds
Today we take a final look at Hungate dig. Five years work will come to an end in a few weeks and it has been a captivating project. We already know much more about this part of York, and when the 100,000 artefacts have been analysed, we will have an even better picture.
Boxes which hold more than 100,000 artefacts unearthed during the Hungate dig
Hungate has been York's largest excavation and three times the size of Coppergate. Archaeologists say they have unearthed the best collection of Roman jet found in York for a century and evidence of a Roman cemetery. But many of the finds ask more questions than give answers. Take the cluster of Viking mounds. Not only is York Archaeological Trust baffled, so too are experts from across Europe. Project director Peter Connelly says it is unique, so it will be fascinating to learn what the mounds were used for when the soil and artefacts have been scrutinised. The spade work has been done, now it is time for the detective work. We wait for answers with interest.