HOYO NEGRO (Mexique) : Skull in Underwater Cave May Be Earliest Trace of First Americans
HOYO NEGRO (Mexique) : Skull in Underwater Cave May Be Earliest Trace of First Americans
Skull in Underwater Cave May Be Earliest Trace of First Americans
Fabio Esteban Amador
Source : http://blogs.nationalgeographic.com/blogs/news/chiefeditor/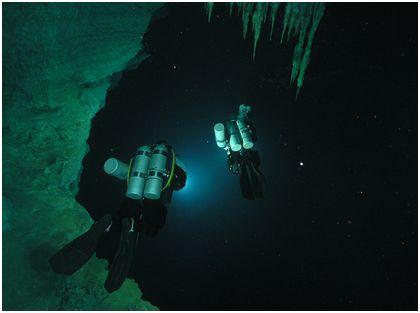 PET/GUE Divers descend into the abyss at Hoyo Negro.Bottom of Form Photo by Daniel Riordan-Araujo
Explorers have discovered what might be the oldest evidence of humans in the Americas.
Alex Alvarez, Franco Attolini, and Alberto (Beto) Nava are members of PET (Projecto Espeleológico de Tulum), an organization that specializes in the exploration and survey of underwater caves on the Yucatan Peninsula in Mexico.
Alex, Franco and Beto have surveyed tens of thousands of feet of mazelike cave passages in the state of Quintana Roo. The team's relatively recent explorations of a large pit named Hoyo Negro (Black Hole, in Spanish), deep within a flooded cave, resulted in their breathtaking and once-in-a-lifetime discovery of the remains of an Ice Age mastodon and a human skull at the very bottom of the black abyss.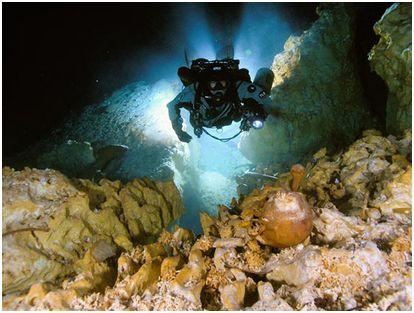 After trekking through the jungle, carrying multiple scuba cylinders, and traveling thousands of feet inside the Aktun-Hu cave system, PET/GUE Member Alex Alvarez discovered a human skull.Bottom of Form
Photo by Daniel Riordan-Araujo
Beto recalls the amazing day of the discovery of Hoyo Negro.
"We started the exploration while following the main tunnel and progressed relatively fast by using scooters to cover more terrain.
"After about 1,500 feet [450 meters] we began to see the light of another entrance, so we headed towards it and surfaced.
"After taking a moment to chat and laugh about what a great dive we were having, we dropped down to continue the work.
"After about 400 feet [120 meters] the tunnel narrowed to form a circular shape, almost like a huge cement pipe. I made one tie-off and, while waiting for Franco to complete his surveying effort, I took a good look at the strangely shaped tunnel.
"All I could see was the whiteness of the cave walls along the sides, and beyond that it was all black. I thought to myself that this is either the largest tunnel I have seen or there is something unusual at the end of it.
"After Franco caught up, we continued for another 200 feet [60 meters] and eventually reached the end of the tube-shaped tunnel. To our surprise the floor disappeared and all we could see was blackness in all directions. It felt like we had reached a big drop-off or the edge of a canyon wall.
"We tried to slow down our heart rates as we were not really sure of what to do next."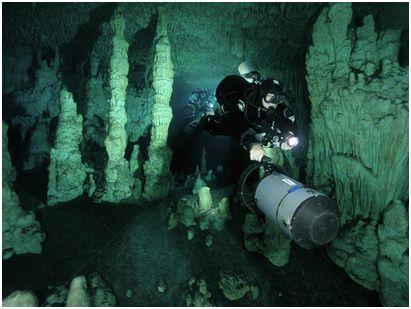 The Aktun-Hu cave system, where Hoyo Negro is located, is completely filled with water and is fully decorated with speleothems, like the Double Column formation shown in this photo.Bottom of Form - Photo by Daniel Riordan-Araujo
Where is Hoyo Negro?
Hoyo Negro was reached by the PET team after the divers travelled more than 4,000 feet [1,200 meters] through underwater passages using underwater propulsion vehicles, or scooters, which enabled them to cover long distances in the flooded cave system.
Once they reached the pit, they began to survey and document its dimensions. The pit is approximately 200 feet [60 meters] deep and 120 feet [36 meters] in diameter and is located inside the Aktun-Hu cave system in the state of Quintana Roo, Mexico.
Submerged cave systems in Quintana Roo have been systematically surveyed and mapped by teams of highly specialized divers. The PET team is affiliated with Global Underwater Explorers, as is the Mexico Cave Exploration Project.
"The immense size of Hoyo Negro is difficult to comprehend. Once you enter the pit you cannot see the floor below, and all that can be seen in front of you is a black void -- an inviting entrance to the abyss, " recalls Franco.
The team of explorers touched bottom at 197 feet [57 meters], where they made their incredible discovery.