How Dogs May Have Helped Humans Beat the Neanderthals
How Dogs May Have Helped Humans Beat the Neanderthals
Humanity's Best Friend: How Dogs May Have Helped Humans Beat the Neanderthals
Source - http://www.theatlantic.com/technology/archive/2012/05/humanitys-best-friend-how-dogs-may-have-helped-humans-beat-the-neanderthals/257145/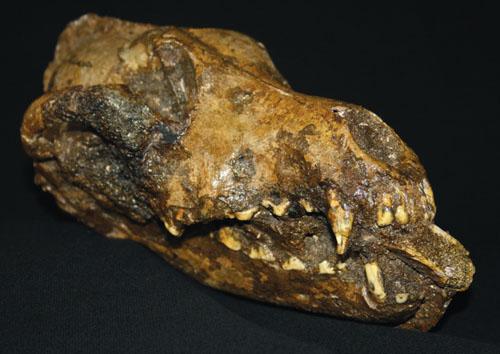 Paleolithic humans may have honored their deceased dogs with rituals. This 27,000-year-old dog skull was found in the Czech Republic with a mammoth bone in its mouth; the bone was apparently placed there shortly after the dog's death.
Photograph courtesy of Mietje Germonpré.
Over 20,000 years ago, humans won the evolutionary battle against Neanderthals. They may have had some assistance in that from their best friends.
One of the most compelling -- and enduring -- mysteries in archaeology concerns the rise of early humans and the decline of Neanderthals. For about 250,000 years, Neanderthals lived and evolved, quite successfully, in the area that is now Europe. Somewhere between 45,000 and 35,000 years ago, early humans came along.
They proliferated in their new environment, their population increasing tenfold in the 10,000 years after they arrived; Neanderthals declined and finally died away.
What happened? What went so wrong for the Neanderthals -- and what went so right for us humans?
The cause, some theories go, may have been environmental, with Neanderthals' decline a byproduct of -- yikes -- climate change. It may have been social as humans developed the ability to cooperate and avail themselves of the evolutionary benefits of social cohesion. It may have been technological, with humans simply developing more advanced tools and hunting weapons that allowed them to snare food while their less-skilled counterparts starved away.
The Cambridge researchers Paul Mellars and Jennifer French  have another theory, though. In a paper in the journal Science, they concluded that "numerical supremacy alone may have been a critical factor" in human dominance -- with humans simply crowding out the Neanderthals. Now, with an analysis in American Scientist, the anthropologist Pat Shipman is building on their work. After analyzing the Mellars and French paper and comparing it with the extant literature, Shipman has come to an intriguing conclusion: that humans' comparative evolutionary fitness owes itself to the domestication of dogs.
Yep. Man's best friend, Shipman suggests, might also be humanity's best friend. Dogs might have been the technology that allowed early humans to flourish.
Shipman analyzed the results of excavations of fossilized canid bones -- from Europe, during the time when humans and Neanderthals overlapped. Put together, they furnish some compelling evidence that early humans, first of all, engaged in ritualistic dog worship. Canid skeletons found at a 27,000-year-old site in Předmostí, of the Czech Republic, displayed the poses of early ritual burial. Drill marks in canid teeth found at the same site suggest that early humans used those teeth as jewelry -- and Paleolithic people, Shipman notes, rarely made adornments out of animals they simply used for food. There's also the more outlying fact that, like humans, dogs are rarely depicted in cave art -- a suggestion that cave painters might have regarded dogs not as the game animals they tended to depict, but as fellow-travelers.
Shipman speculates that the affinity between humans and dogs manifested itself mainly in the way that it would go on to do for many more thousands of years: in the hunt. Dogs would help humans to identify their prey; but they would also work, the theory goes, as beasts of burden -- playing the same role for early humans as they played for the Blackfeet and Hidatsa of the American West, who bred large, strong dogs specifically for hauling strapped-on packs. (Paleolithic dogs were big to begin with: They had, their skeletons suggest, a body mass of at least 70 pounds and a shoulder height of at least 2 feet -- which would make them, at minimum, the size of a modern-day German Shepherd.) Since transporting animal carcasses is an energy-intensive task, getting dogs to do that work would mean that humans could concentrate their energy on more productive endeavors: hunting, gathering, reproducing.
The possible result, Shipman argues, was a virtuous circle of cooperation -- one in which humans and their canine friends got stronger, together, over time.
There's another intriguing -- if conjecture-filled -- theory here, too. It could be, Shipman suggests, that dogs represented even more than companionate technologies to Paleolithic man. It could be that their cooperative proximity brought about its own effects on human evolution -- in the same way that the domestication of cattle led to humans developing the ability to digest milk. Shipman points to the "cooperative eye hypothesis," which builds on the observation that, compared to other primates, humans have highly visible sclerae (whites of the eyes). For purposes of lone hunting, sclerae represent a clear disadvantage: not only will your pesky eye-whites tend to stand out against a dark backdrop of a forest or rock, giving away your location, but they also reveal the direction of your gaze. It's hard to be a stealthy hunter when your eyes are constantly taking away your stealth.
Expressive eyes, however, for all their competitive disadvantage, have one big thing going for them: They're great at communicating. With early humans hunting in groups, "cooperative eyes" may have allowed them to "talk" with each other, silently and therefore effectively: windows to the soul that are also evolutionarily advantageous. And that, in turn, might have led to a more ingrained impulse toward cooperation. Human babies, studies have shown, will automatically follow a gaze once a connection is made. Eye contact is second nature to us; but it's a trait that makes us unique among our fellow primates.
Dogs, however, also recognize the power of the gaze. In a study conducted at Central European University, Shipman notes, "dogs performed as well as human infants at following the gaze of a speaker in tests in which the speaker's head is held still." Humans and their best friends share an affinity for eye contact -- and we are fairly unique in that affinity. There's a chance, Shipman says -- though there's much more work to be done before that chance can be converted even into a hypothesis -- that we evolved that affinity together.
"No genetic study has yet confirmed the prevalence or absence of white sclerae in Paleolithic modern humans or in Neanderthals," Shipman notes. "But if the white sclera mutation occurred more often among the former -- perhaps by chance -- this feature could have enhanced human-dog communication and promoted domestication."
Which is another way of saying that, to the extent dogs were an evolutionary technology, they may have been a technology that changed us for the better. The old truism -- we shape our tools, and afterward our tools shape us -- may be as old, and as true, as humanity itself.