Holystone (G-B): Medieval priory discovered
Holystone (G-B): Medieval priory discovered
Michael Pearson / Pictures by Ian Glendinning
Source - http://www.northumberlandgazette.co.uk/news/local-news/medieval-priory-discovered-by-northumberland-archaeological-dig-1-7179658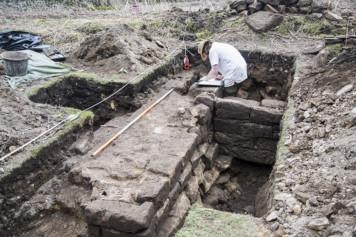 Volunteers from Holystone have unearthed the remains of what is believed to be a medieval priory.
Members of Holystone History and Archeology Group were given unique permission by St Mary the Virgin Church for the five-day dig, which was funded by Northumberland National Park Authority and Coquet Community Archaeology Group.
A former nunnery stood at the site in Upper Coquetdale and was destroyed in Henry VIII's dissolution of the monasteries in the 1500s.
Group chairman Ian Glendinning said: "There's been an ongoing puzzle, for many years, as to where the remains of the former nunnery that stood on the site of the new Holystone church was located."
Ian and the team gained permission from a local couple to use the land on the basis that it would be restored at the end of the dig.
"We only had a budget for five days, which doesn't mean to say we can't dig it up again but it depends on permissions."
The team used Alnwick-based start-up business Deepscan, a ground-penetrating radar company which surveyed the area for the underground site.
Jan Frazer, the group's secretary, explained to the Gazette that they previously commissioned a geophysics survey on the ground in 2006 which didn't show anything as the equipment used could only see about a meter underground.
With the technology used by Deepscan, the team could see almost 5 meters below and enabled them to concentrate manpower in one area.
Ian said: "We commissioned a ground radar survey with what knowledge we had over the many years and we best guessed where the foundations might be, so we dug a tench and started finding things."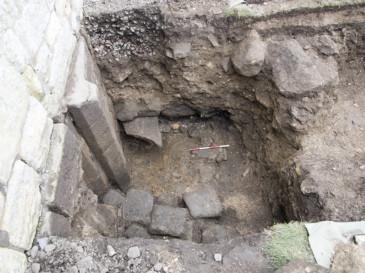 The group's findings are now being compiled by archeologist Richard Carlton and his team from Newcastle, who have told Jan 'the conclusion they've come to for the interim report is that they think this is the priory buildings'.
The site is now completely restored but the possibility of it being reworked could be around the corner.
But for now, Jan said: "It looks exactly as we found it. My team was very good at returfing carefully and it looks stunning that you can't see any work has been done."