Hinkley Point (G-B): Dark Age cemetery, dog bones, cremations and central-heated Roman villa found on huge archaeological site
Hinkley Point (G-B): Dark Age cemetery, dog bones, cremations and central-heated Roman villa found on huge archaeological site
Ben Miller / Photos :© South West Heritage Trust
Source - http://www.culture24.org.uk/history-and-heritage/archaeology/art514035-dark-age-cemetery-dog-bones-cremations-and-central-heated-roman-villa-found-on-huge-somerset-archaeological-site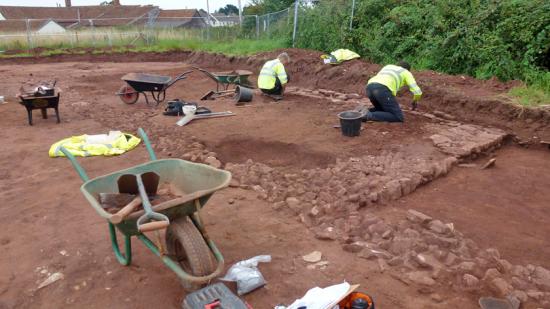 A large Dark Age cemetery, hunter gatherer tools, pig remains offered as part of human cremations and a central-heated Roman villa which covered an infant burial have been discovered at a site the size of 160 football pitches where a power station will be built in Somerset.

Working for EDF Energy, Cotswold Archaeology say Hinkley Point, near the village of Cannington, was continuously occupied during the Iron Age and Roman periods and beyond, with three circular agricultural buildings and a set of more than 100 burials emerging.
Everyday items including pottery, coins, brooches and imported pottery have indicated that residents owned "luxury goods" such as olive oil or wine from the Mediterranean.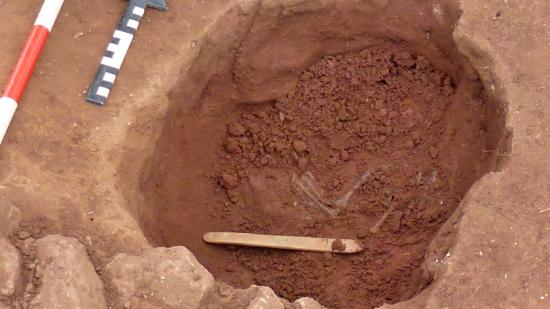 The bones, which were poorly preserved and not necessarily indicative of the wider population, showed a diet rich in carbohydrates and teeth caries reflecting poor oral hygiene, typical of low-fibre, "soft" diets.

A decapitated adult female could have been part of a Romano-British burial rite, although the condition of the remains prevented archaeologists from finding any cut or chop marks which could have caused the removal of the woman's head.

One female burial belonged to a woman who was slightly over 5ft1 inches tall, while two individuals had canine teeth defects suggesting fever, starvation or infection during their infancy. A scurvy sufferer – "probably" experiencing a headache at his time of death – and a dog buried in a ditch were also found.

"We are going to carry out detailed analysis of the skeletal remains," said Charlotte Haines, who produced a string of video diaries from the dig at the end of 2014.

"This will enable us to see if there is evidence of disease or injury. We can also see if any of them are linked as family groups, get an idea of their diet, where they came from and lived.

"We expect to piece together lots of individual stories about how people, lived, died and were buried. We think we've got several periods here in this one burial ground, because there are 'phases' to the yard."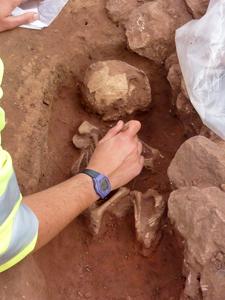 A set of maps from between the 17th and 19th centuries show a medieval field system and, in 1794, the former Benhole Farm.

The ramparts of Iron Age hillforts are still visible on the slopes surrounding a site where around 50 trenches have been excavated during archaeological investigations in recent years.

"The infant looks like it was buried under the floor of the villa building," said Haines.

"Essentially we've got two rooms surviving and they appear to have been built in different phases.

"The large square room with the white limestone rubble foundation is the easternmost room.

"The other half of the building is constructed of pink sandstone, mortared and just generally better built.

"A stokehole with fire would have produced hot air which would have rushed under buildings. There's a wide channel which forks off, going under each floor, and charcoal.
"If this isn't a hypocaust we don't really understand what this structure may be. The tunnel is too narrow for corridors or anything like that.
"A lot of the building has been lost to later quarrying. When we call it a villa, it's more likely to be a high-status farm set in an agricultural landscape.

"It's a building with several rooms with an elaborate, underfloor heating system. It's got associated other buildings.

"It's unlikely to have been palatial on a Chedworth scale. We're unlikely to see mosaic floors but it's still pretty dominant in the landscape."

Most of the bodies were buried in a Christian east-west formation. An isolated boar tusk and bird remains were also found in a project which is expected to continue into spring 2015.
Visit the project blog for more. An exhibition, Landscapes of Power: The Archaeology and History of Hinkley Point, is at Somerset Museum until April 11 2015.