Hey Werner Herzog – Ridley Scotts Wants To Direct A Gertrude Bell Biopic Too!
Hey Werner Herzog – Ridley Scotts Wants To Direct A Gertrude Bell Biopic Too!
Hey Werner Herzog – Ridley Scotts Wants To Direct A Gertrude Bell Biopic Too!

Source: http://www.obsessedwithfilm.com/movie-news/hey-werner-herzog-ridley-scotts-wants-to-direct-a-gertrude-bell-biopic-too.php#ixzz1IIEjzMCr

Despite having his hands deep in a dozen pies already, including his new sci-fi movie Prometheus (the kind of Alien prequel/spin-off) that's now filming in London, veteran director Ridley Scott has just added another potential project to his ever overflowing plate.
Deadline is reporting that Sir Ridley wants to make a film about Gertrude Bell, the British explorer, writer, archaeologist and British political attaché at the beginning of the 20th Century who is these days regarded, by virtue of her knowledge and standing among the various tribes of the region- as having shaped Middle-Eastern countries Iraq and Jordan, including installing their first rulers.
She's been described as a female Lawrence of Arabia (both real life figures actually met) and we are sure Scott has the idea to tap into some David Lean style epic imagery and with Body of Lies and Kingdom of Heaven on his recent CV, we know he's fascinated by the Middle Eastern landscape.
The project is set under his Scott Free banner at Fox and Scott has hired Jeffrey Caine (The Constant Gardner, Goldeneye) to make her life story work in a script that's fit for film, and she's clearly an interesting enough figure to warrant translation to film. Though Scott isn't the only one who thinks so…
Just last month wacky but awesome German director Werner Herzog made his intention known to adapt Bell's story for film titled The Queen of the Desert with Naomi Watts attached to star. Herzog was hoping to film later this year, once Watts is done with her part in Clint Eastwod's J. Edgar and as long as he can secure financing (not as easy for Herzog when he doesn't have the kind of deal Scott has at Fox).

Will this new Ridley Scott announcement effect Herzog's project? Probably not. I mean with Ridley Scott, there's just no guarantee he will ever get around to making it – he attaches himself to a dozen projects a year, not forgetting potential further entries in his Robin Hood saga AND a second Alien spin-off, which we know was the original intention as Damon Lindelof has put together two scripts.
Whilst a Gertrude Bell biopic might be a movie that interests Scott right now, the likelihood is that by the summer and well before Caine is finished with this screenplay, he will have moved on to thinking about making something else. Though if he ever comes up with a wackier idea than to adapt Monopoly for the big screen, then I will eat my hat.
Ridley Scott's Prometheus is filming now in London for a release next summer.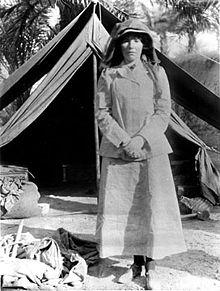 Gertrude Bell in 1909, visiting archaeological excavations in Babylon